IT'S UENO~~!
bi bi pom bi bi~! wooohooot~!
it's a place that you have to allocate a day in tokyo for!
it's where the oldest zoo in japan is located.. it's also the place where the tokyo national museum is.. and also the place where the national science museum is!
wooo..
so exciting right~!
but we decided to skip all those~
wahaha. sorry.. shopping is our only focus for only short trip..
thus we headed straight to AMEYOKO~!
Ameyoko is a place for cheap bargains in Tokyo.
to go to ameyoko, you need to take the JR train to UENO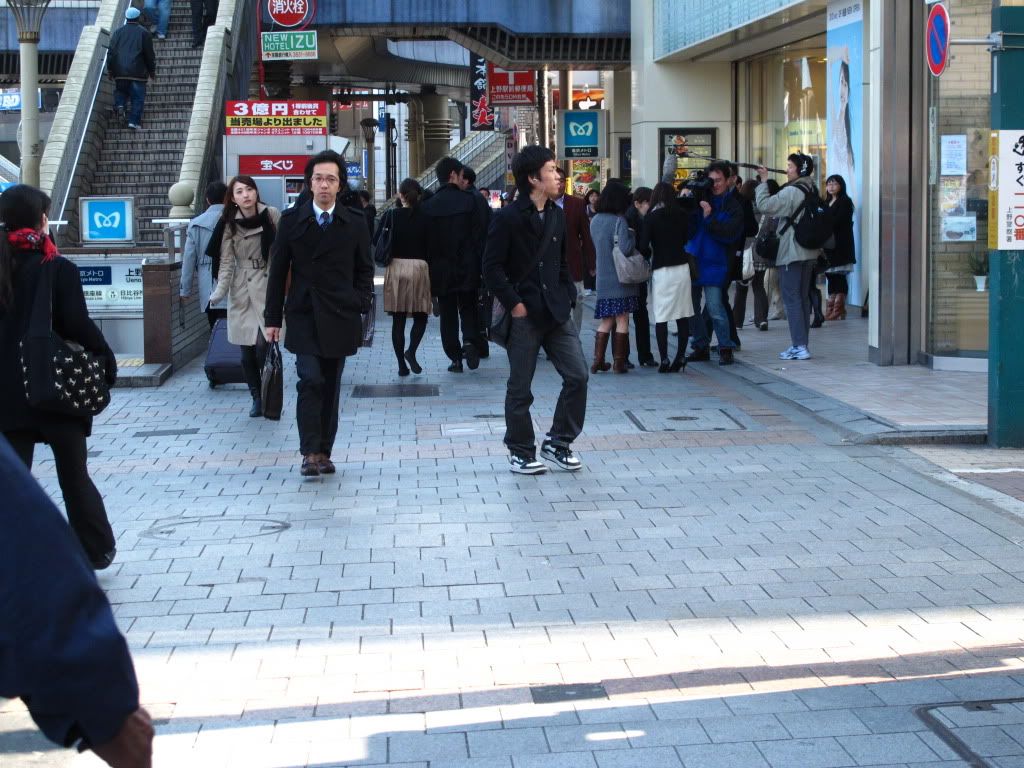 *btw, in the background... filming crew! *
upon reaching UENO, we stopped by at a toys shop near AMEYOKO.
gosh.. i really love love japan's inventions! they are all so fun and quirky~!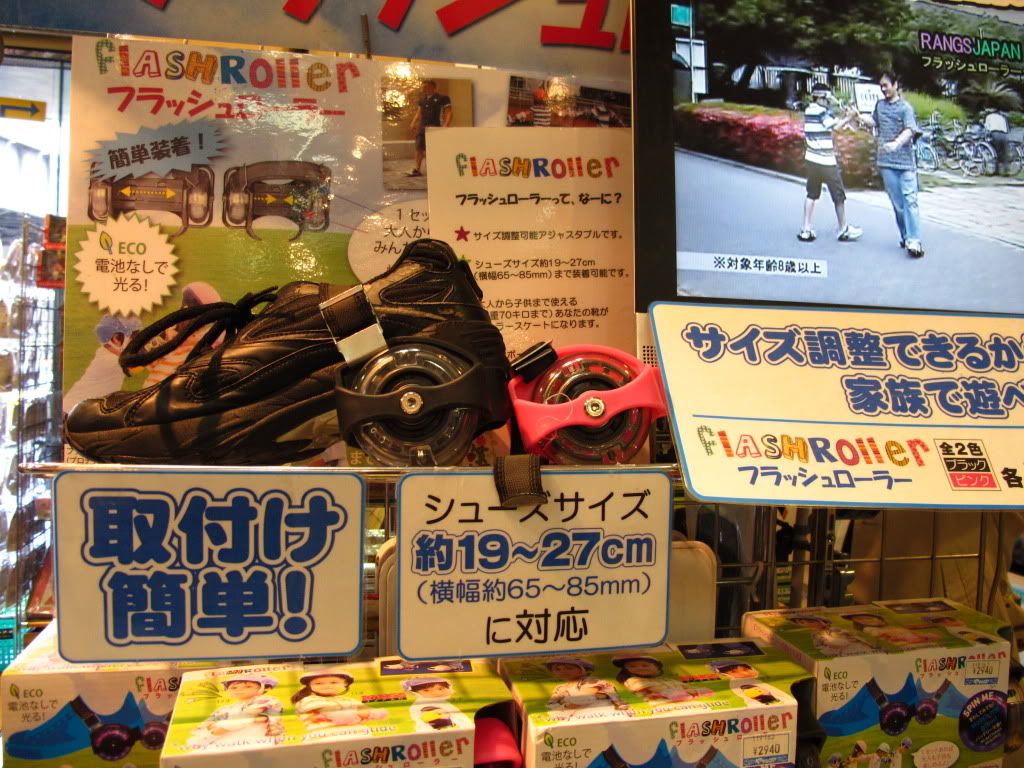 need a rollerblade but find it irritating to put on?
then buy this! haha. you just need to attach this Flasmroller to your shoes and you can skate like nobody's business~~~
find saving up really tiring?
not anymore with all these fun inventions!
*click to zoom in*
in the white box contains the IKEMEN BANK which means handsome dudes bank.
Every time you slot a coin into the bank, your relationship with your IKEMEN will increase. Your Ikemen will lovey dovey stuffs to make your heart beats~ hahaha. isn't it fun?
next to the white box is the BANKQUEST.
basically the money you saved will be the money your character in the rpg can use to buy their clothes, weapons and spells. DAMN INTERESTING!!
and bottom right is the money eater.
and next to it is the JR train for all the train otaku out there! hahaha
and they have got a shelf of drops (candies) with weird and exotic tastes~
examples are, the corn soup drops, ramen drops, curry rice drops and beer drops.
i've bought a takoyaki drops when i visited osaka the previous time.. and and... it really tastes like takoyaki which makes it really sucky. it ended up becoming the punishment of games. hahaha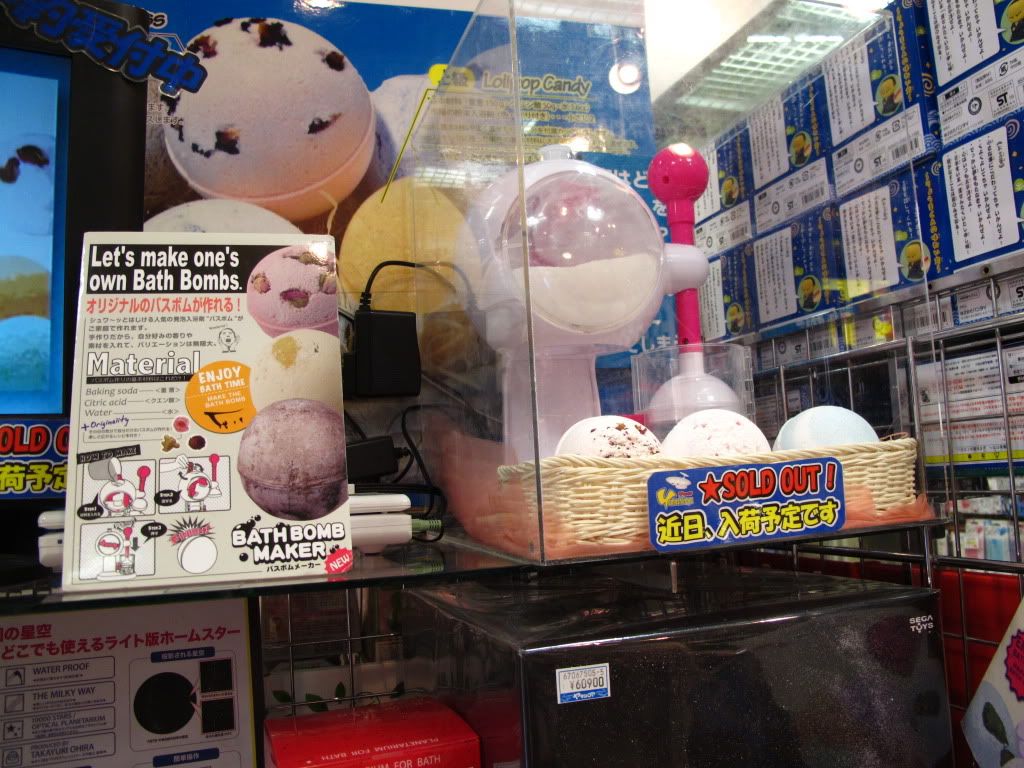 this is sold out! but it's the BATH BOMBS.
with this machine you can make your own soap, with your own desired smell and flavours!
wahaha. imagine takoyaki flavoured soap!
Random: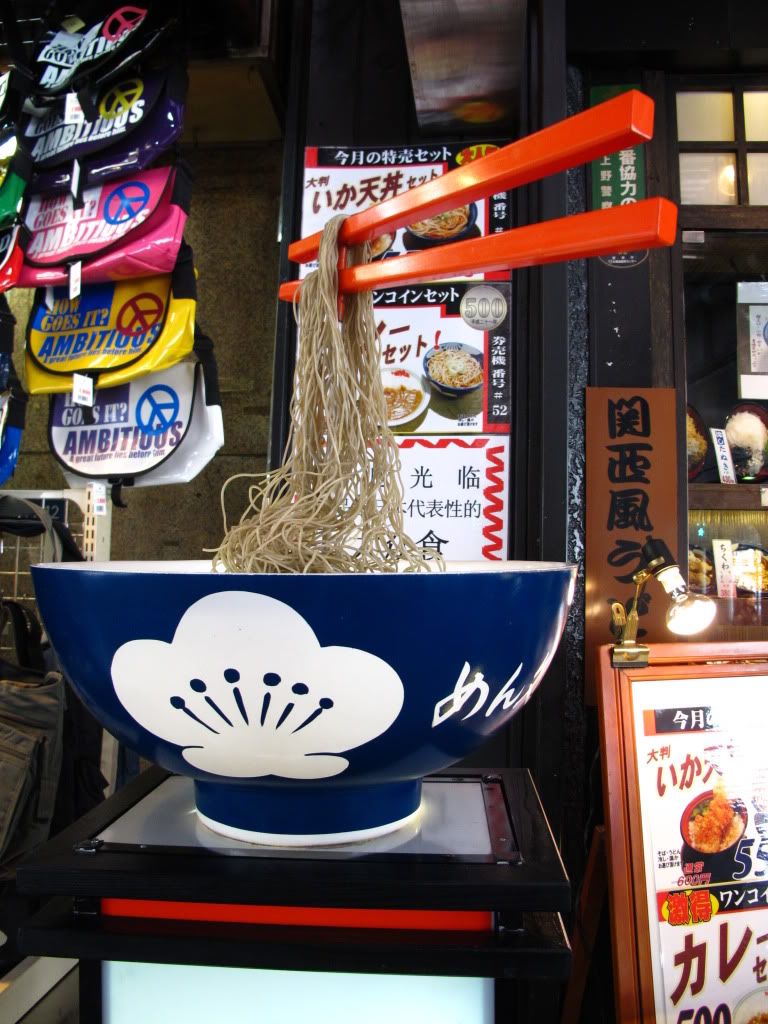 gigantic soba that goes... up and down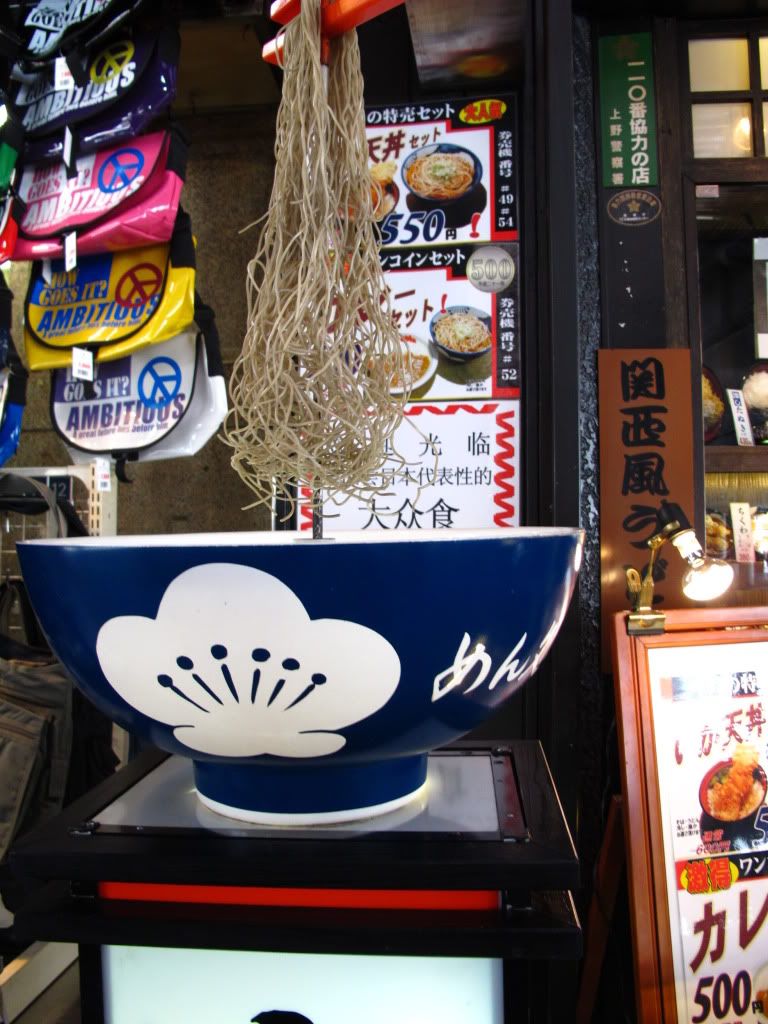 wahaha. super random, i know. hahah
and finally, walk walk walk and we are at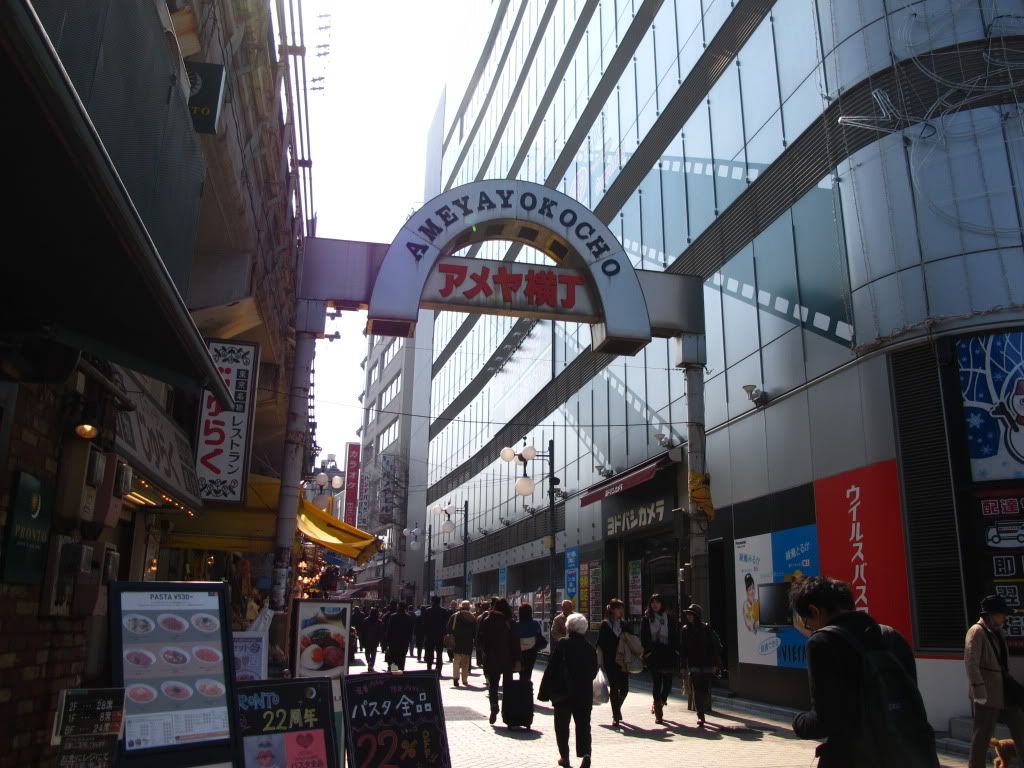 AMEYOKO~!
basically as mentioned above, AMEYOKO = great deals!
thus, we took very little photographs as.... WE NEED TO SHOP!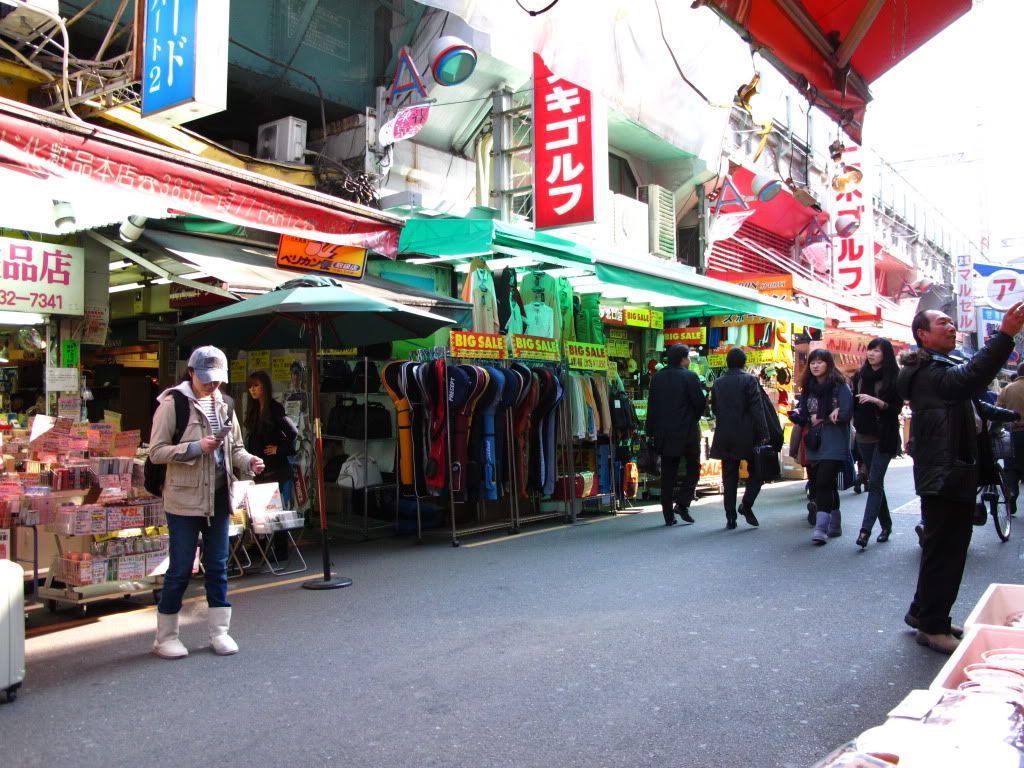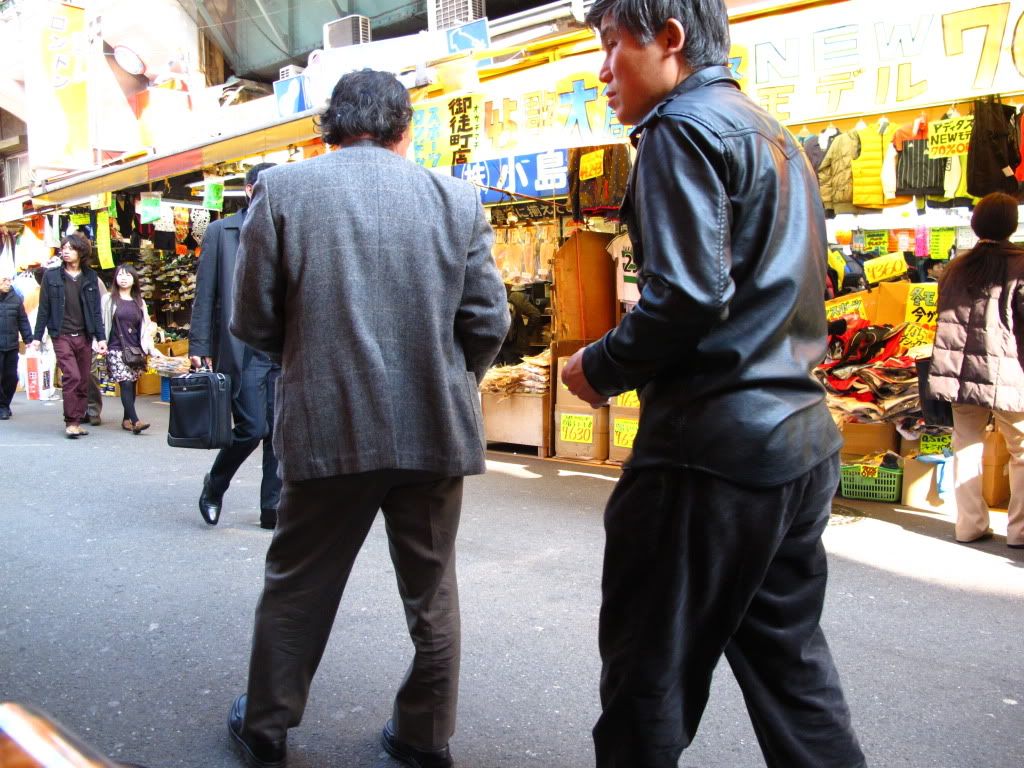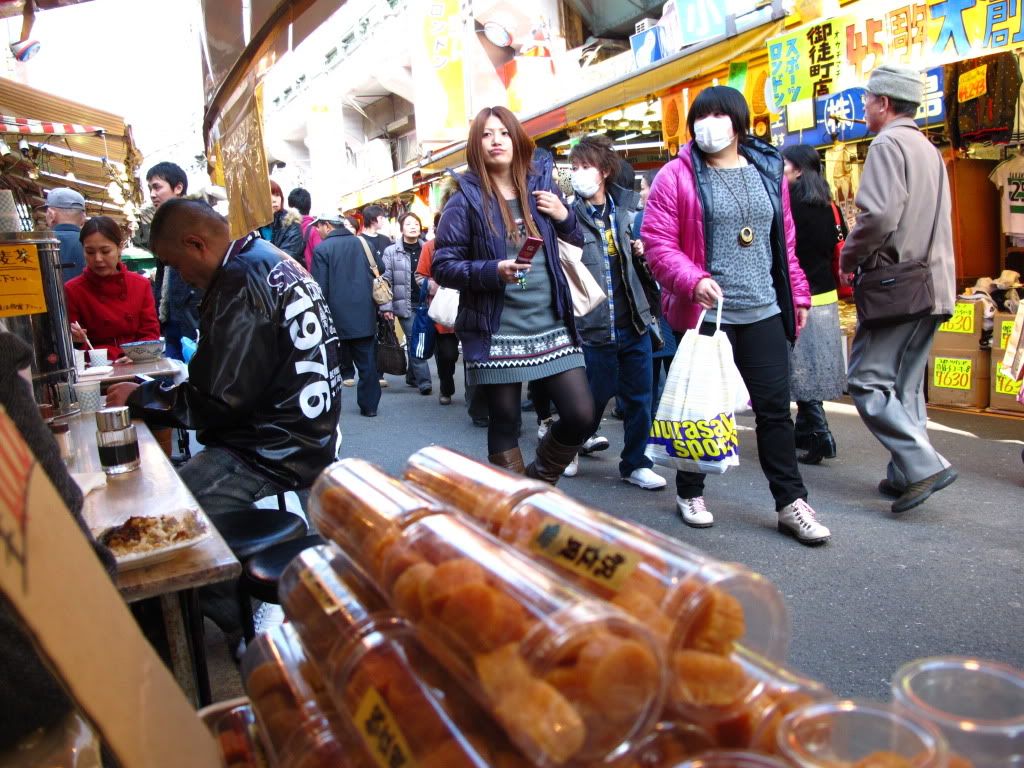 i know... the photographs might not appeal to you as a cheap shopping paradise.. but trust me, there are good bargains if you searched around.
we bought two pairs of shoes at ameyoko at 2990yen and 3600yen. but it will probably cost around 70~100sgd in Singapore?
and ameyoko has a range of merchandises!
from fresh seafoods...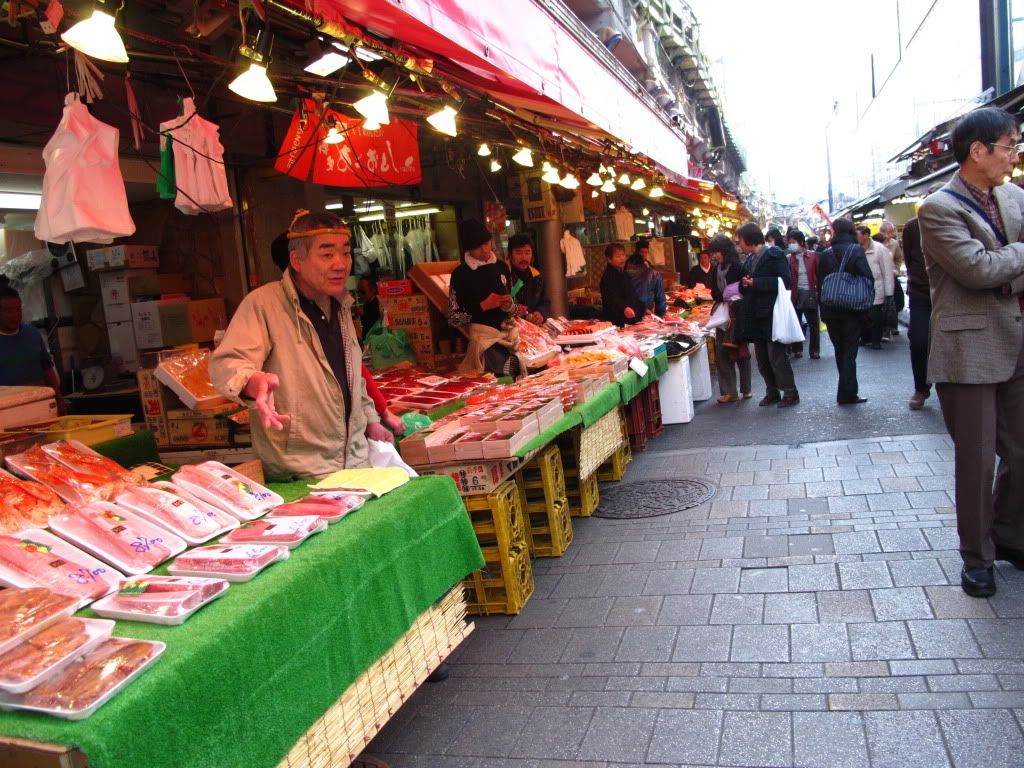 to shops for ROCKERS~!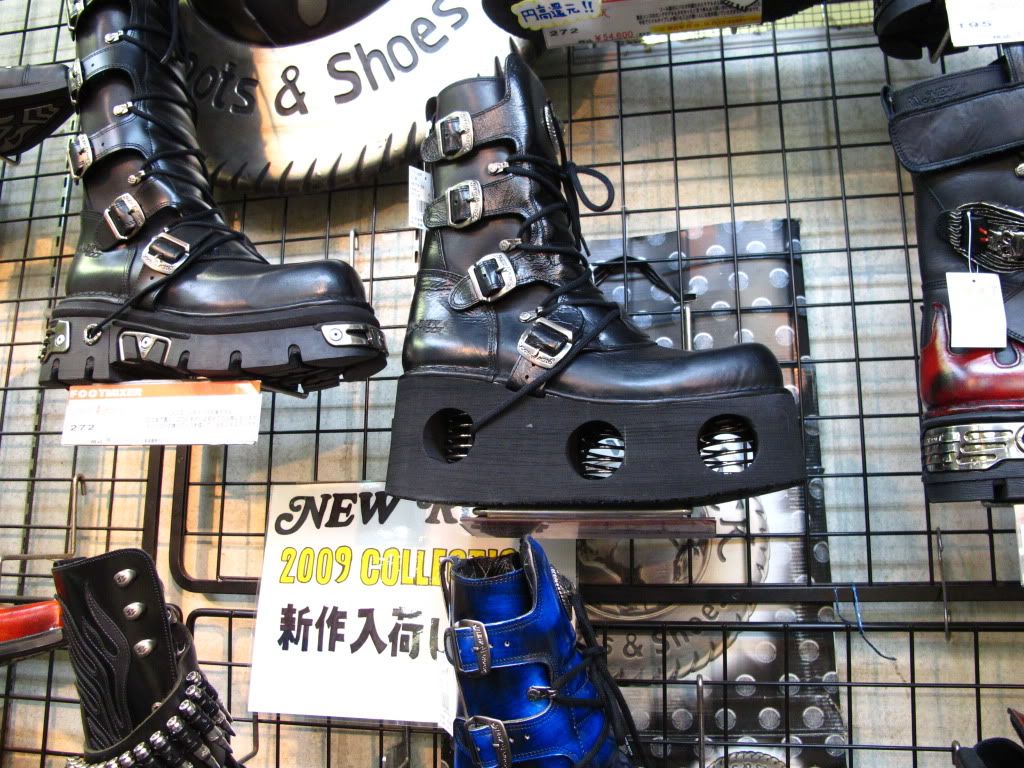 you would probably expect these shoes to cost a lot online but it's only 3600yen at AMEYOKO~
good bargains!
and in AMEYOKO, there's two special type of stalls you should should should go!
first,
the seafood don stall!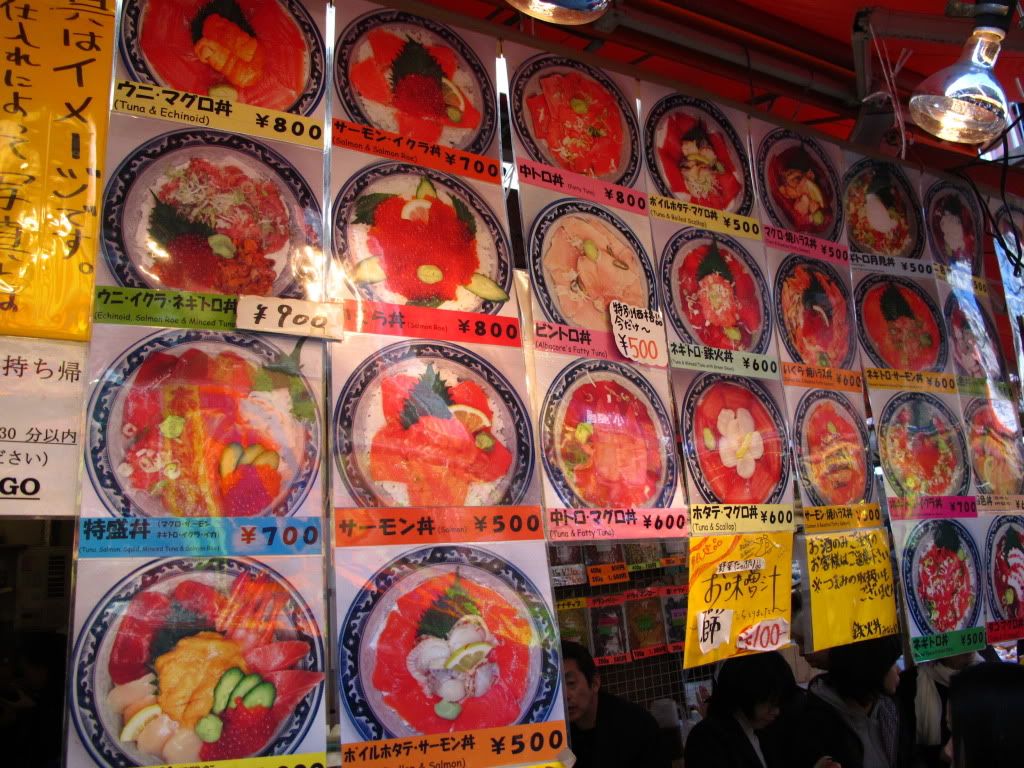 sashimis~
really cheap if you compare with the sashimi meals we had at tsukiji that morning.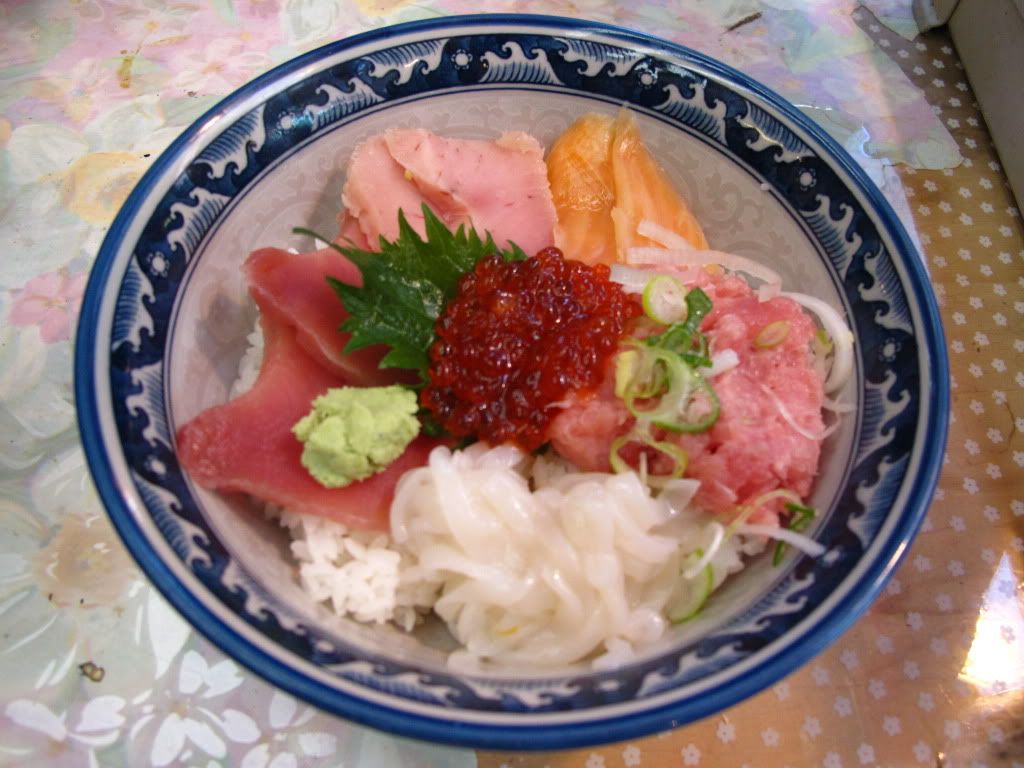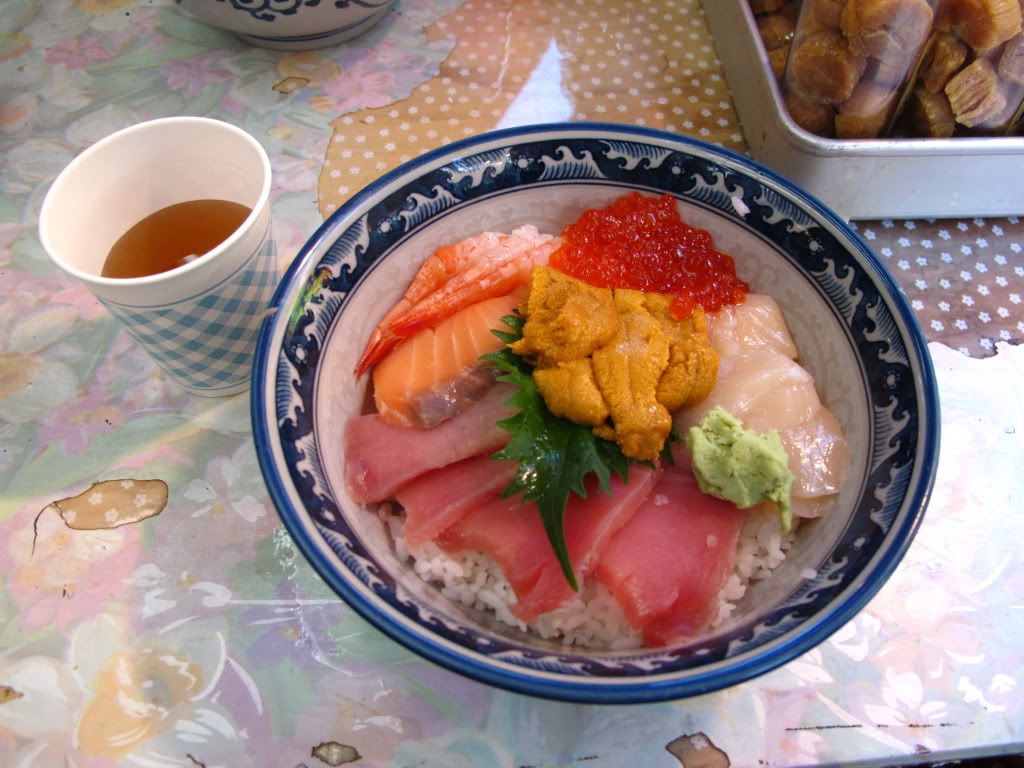 it's really cheap but...
i would actually prefer paying more for a meal at tsukiji~
because the salmon roe and uni is not as sweet as compared to those delicacies we had this morning at tsukji.
however, the salmon and maguro tasted alright~
and because it's such a good bargain... you can try to order salmon don or negi-salmon don next time if you're there! around 500yen~
the other shop is the very famous chocolate shop!
for 1000yen, you can a lot of chocolates for the uncle~
it depends on how much the uncle want to give you.
so if you are friendly to them, they willllllllll give you a lot!!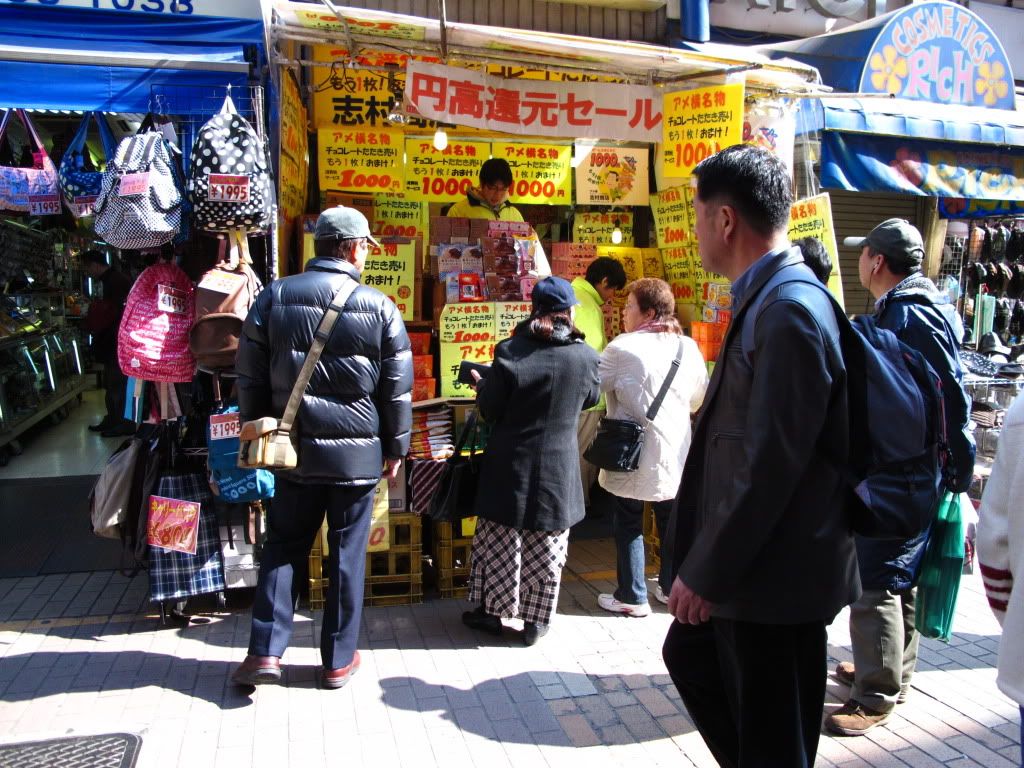 and we got good chocolates like pralines and truffles ~
we got like at least 13 packets of chocolates. hahaha. and all for 1000yen!!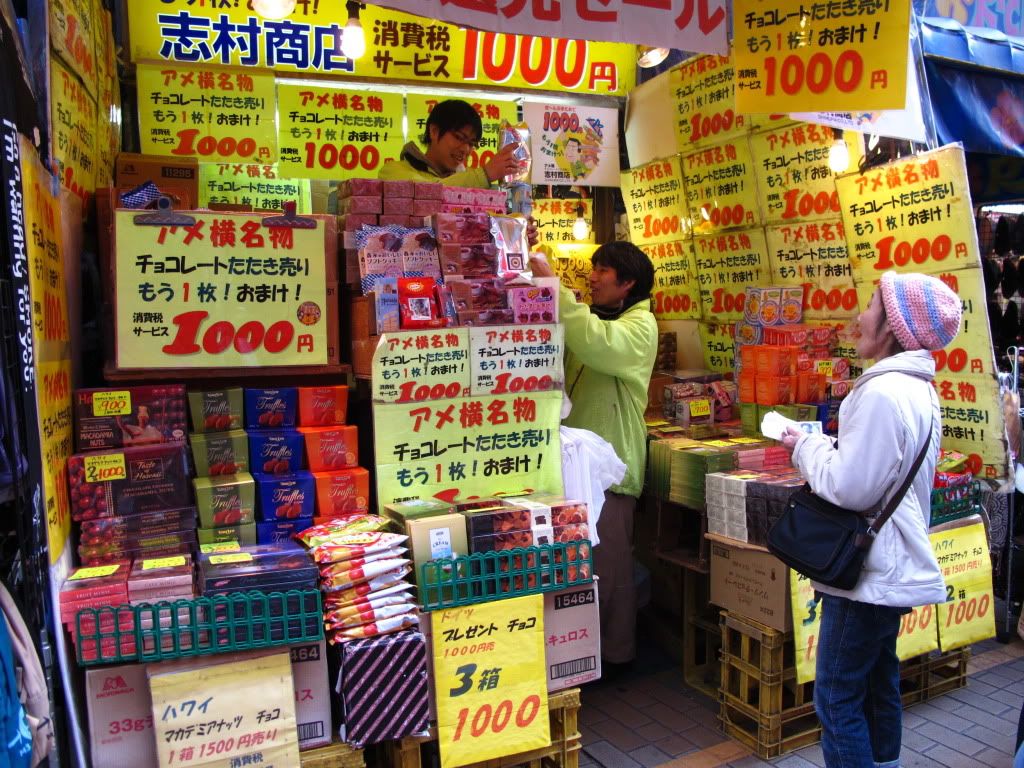 see that granny is sooo happy~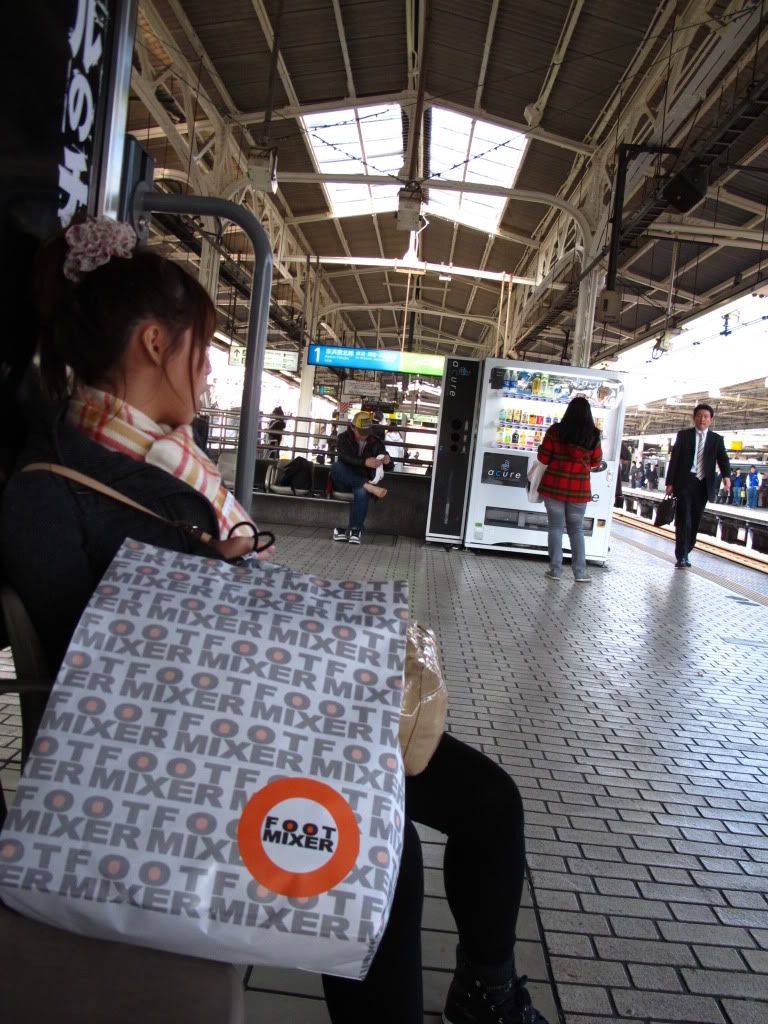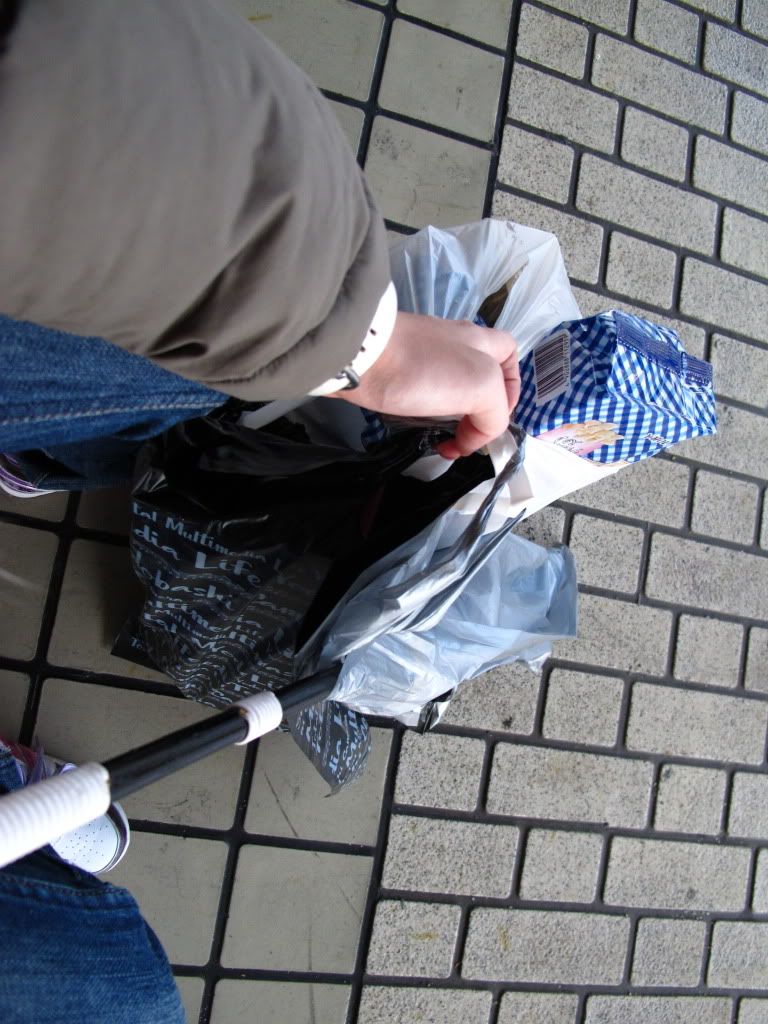 things we bought at ameyoko!
inside that big bag that my sister was carrying is.... A LOT OF CHEAP make up and accessories bought at AMEYOKO~ hahah
*look how tired she is carrying that...*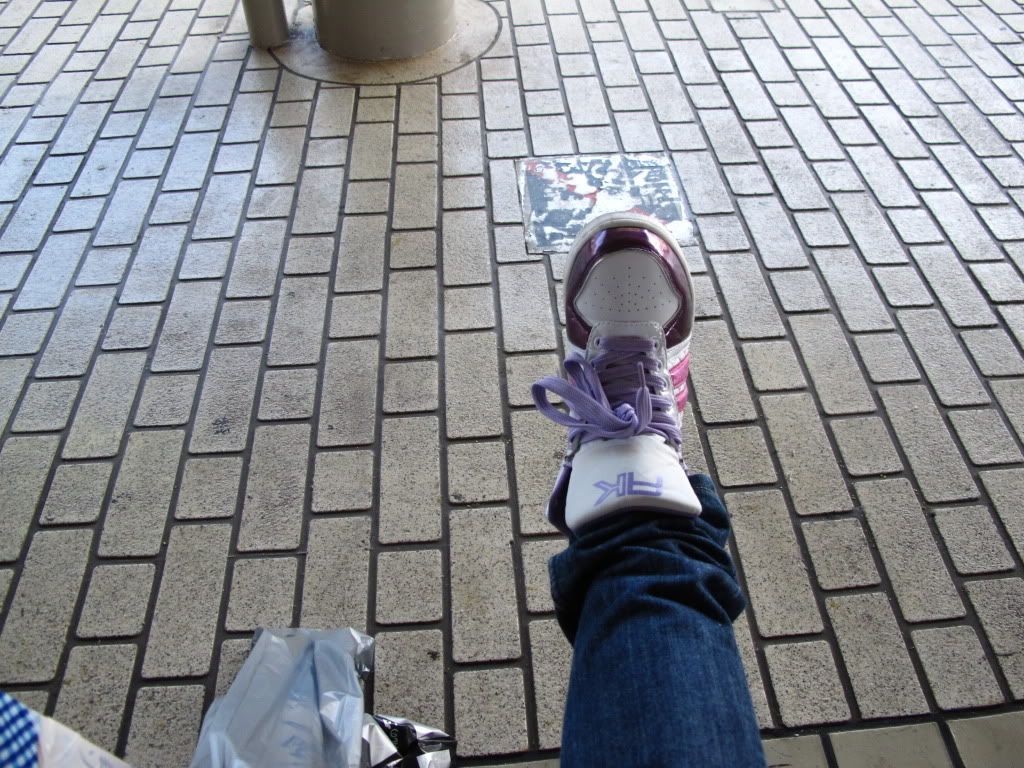 the new RUSS-K shoes i got at AMEYOKO for 3600yen!
anyway, we left ameyoko really early as we were going to meet our japanese friends later at night...