23/02/10
basically that day is a very memorable and special day for us!
it's the main reason behind my trip to japan this time round and also the reason that makes us determined to get our hair done even though we skipped our dinner!
and....
the reason is....
brief introduction of popteen:
popteen is a gyaru (gals) style magazine with many charisma models eg
KUMIKKI
YUI
MARIMO
JUN
. the famous
Tsubasa
graduated from POPTEEN too! and she's now in POPSISTER!!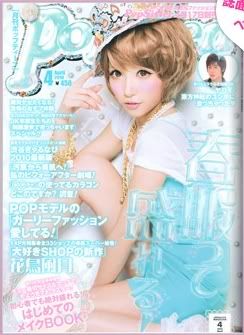 to browse popteen magazine, click on this
LINK
it's really a dream come true for us to visit POPTEEN editorial room!
All thanks to Shishido-san!
we are supposed to go there at 4pm. However we are lost again and walked the whole streets of magazine firms (eg. Non-no Cutie Zipper Blenda....)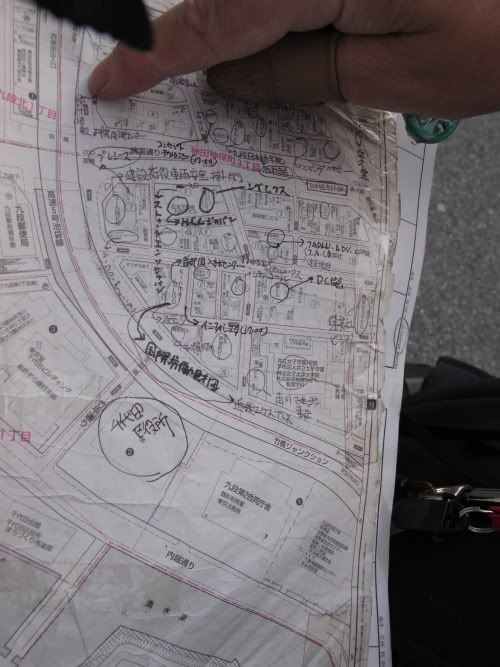 a postman helping us find the building.
And when looking for POPTEEN firm, we bumped into BLENDA~
the office is full full full of clothes!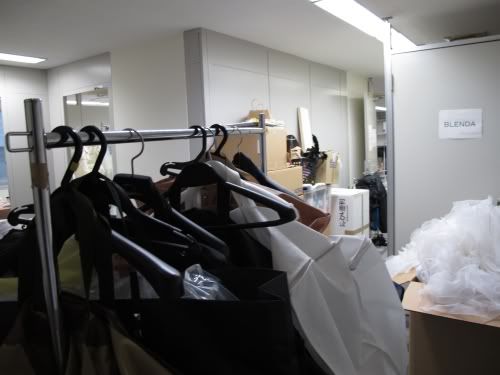 the whole alley is packed with clothes!
we didn't enter blenda's office though.. just snapping from the outside. wahaha.
Popteen was supposed to be at the current blenda's location, however due to the expansion of the popteen ( new division of POPSISTER ) they moved to a new building.
we got the old address from the website therefore we got to the wrong place. hahaha.
then we called shishido-san to clarify and she directed us to the new office.
so after much efforts, we finally reached POPTEEN! woohooooot~~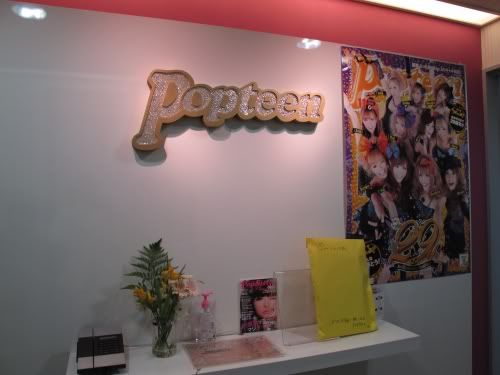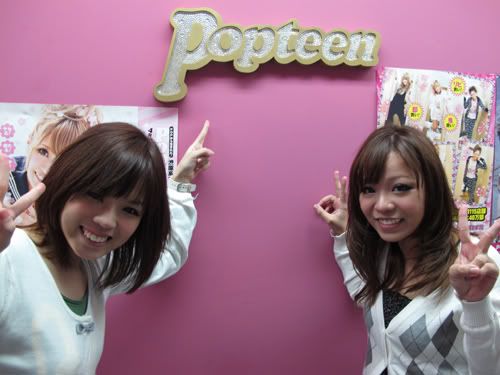 YEAH~~!!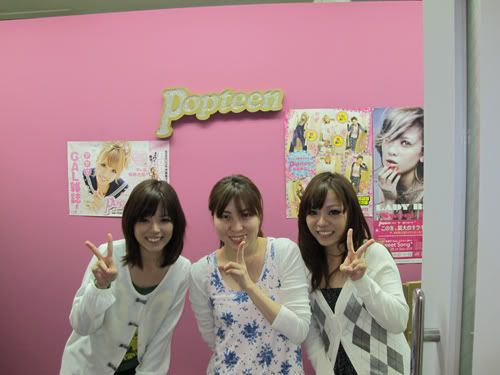 and because we are quite late so Shishido-san is a little busy. However, this kind lady volunteered to show us around =D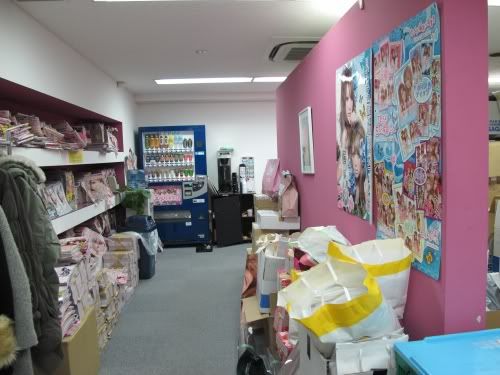 once you entered the office, you would be surrounded by walls of POPTEEN~ weeheee~!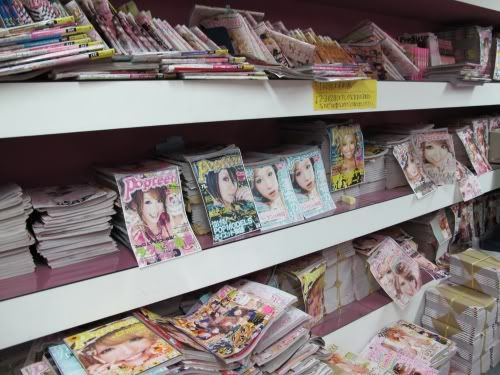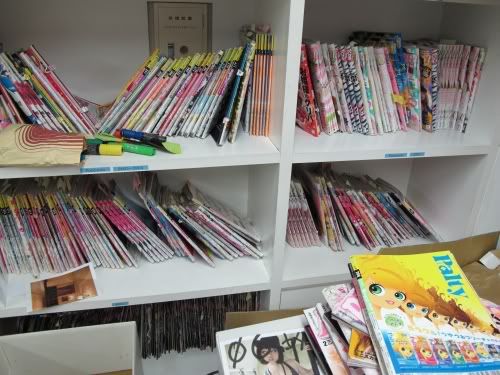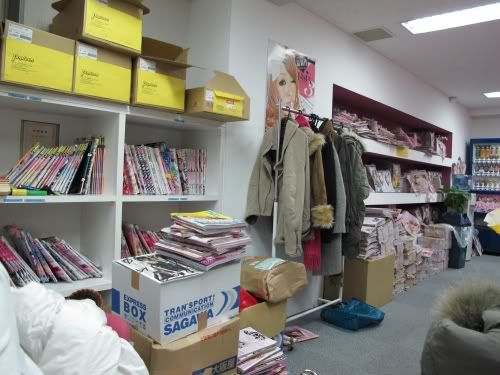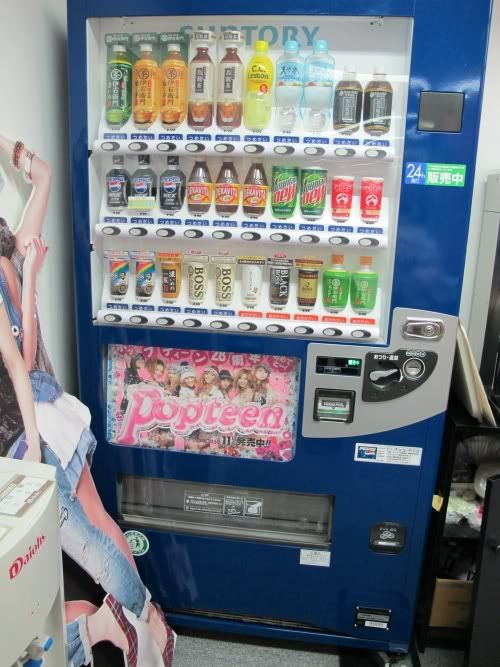 even their vending machine is popteen-ish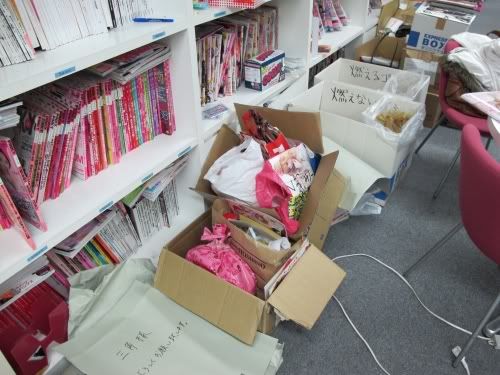 presents from fans!
wow! i mean, it's really delivered over to the models! how great! i want to send some over next time =D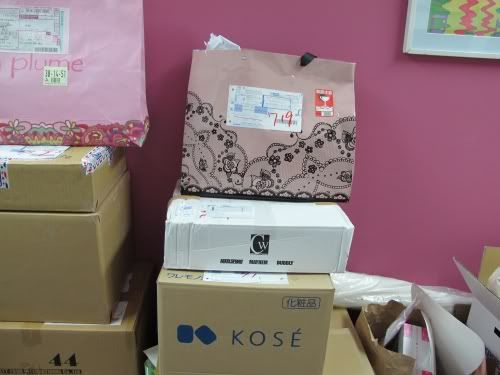 these are the latest clothes from various shops! they will send latest clothes over when popteen requested for it.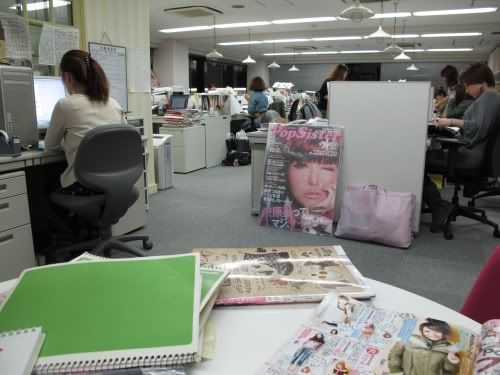 their workspace! can you imagine it? the popteen that we read is from here!! there is about 20 permanent staff in the office and some were part timers. on average, they would need one and a half months to create one issue! so imagine the
LATEST TREND
on this month issue is actually spotted by them from 2 months ago >.< how cool!! by the way, the left side is POPTEEN group and the right side is POPSISTER! they worked together to create the POP-MAGAZINES~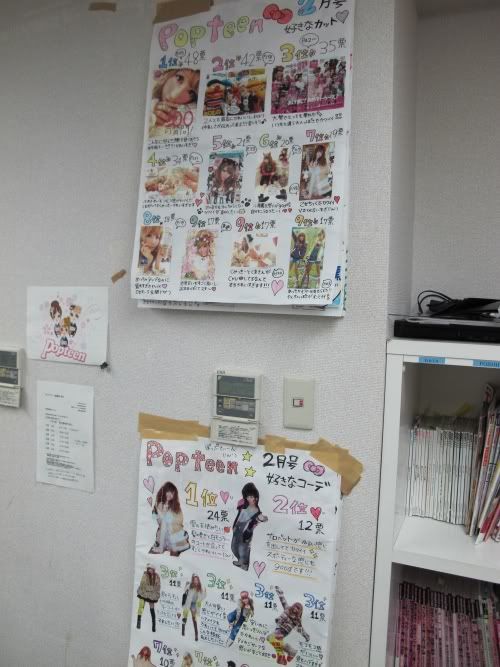 and remember those questionaire at the back of the magazine~ they would consolidate the data and paste it on the wall so that they would have a clear view on what's preferred and whether they are doing it right. so, minna~ please vote and answer the questionaire~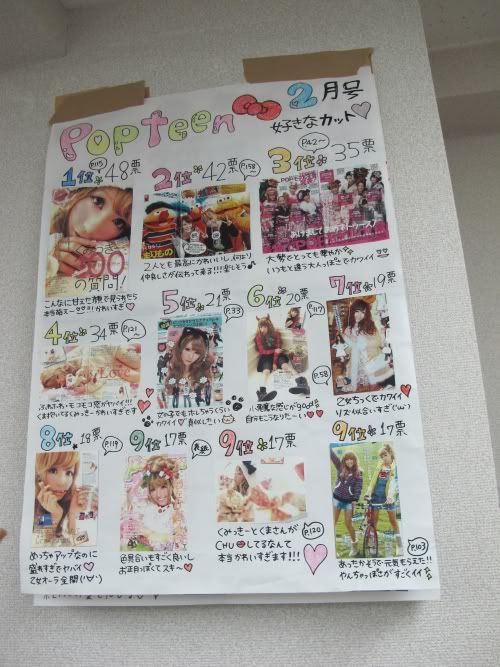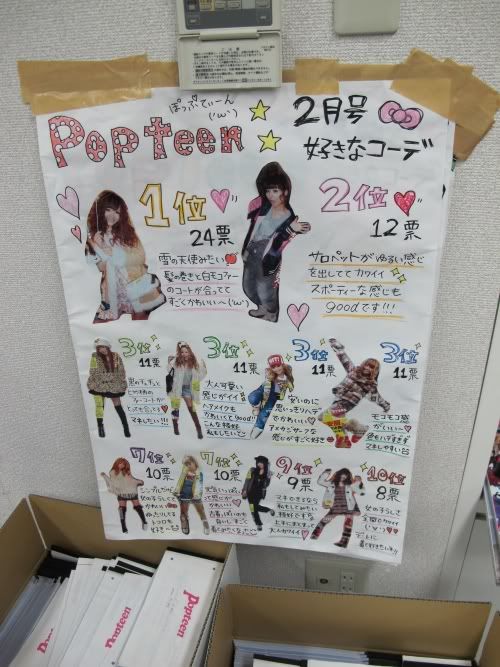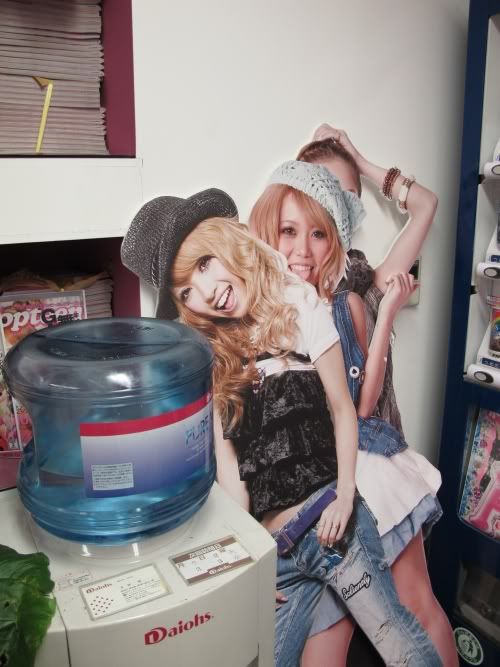 found models!! fake ones though.. hahaa
and we started fan-girling a little~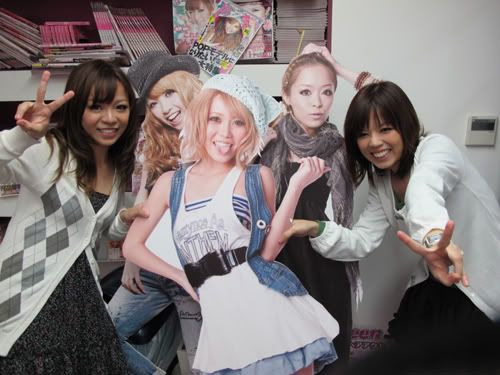 and just when we are gee-gee and gaa-gaa about those "models".......
something unexpected happened!!
the real model appeared!!!
guess who.....!!
it's
KANNO YUI
!!!
omg omg omg!
we are totaly elated and were like shouting and jumping around with excitement!
omg so cool!
she's really tall slim and beautiful in person!
she's without makeup that day and yet she looks really gorgeous!
omg omg omg!
shishido-san introduced the crazy little fans to her and she was shocked that we are from Singapore!
we chatted a little and she was really nice!
we asked if she could take a photo with her. she said that normally she seldom takes photographs without putting make up but she is willing to take with us today!
>.< touched x 10000! and this is what we got!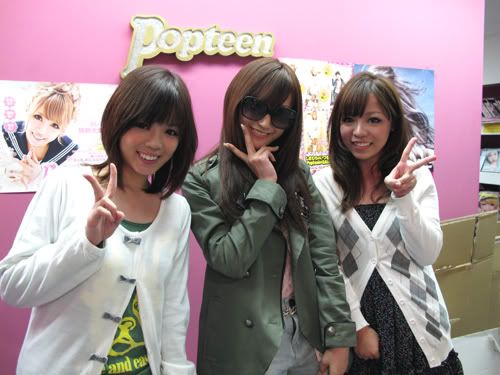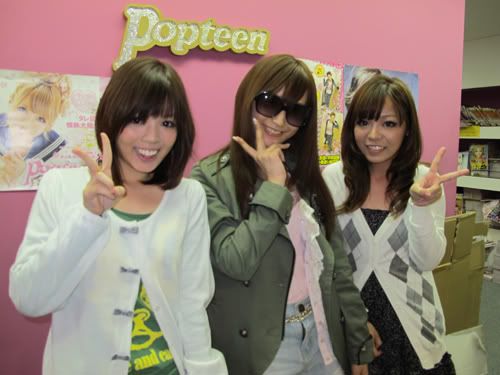 her face is so small in real! >.< gosh. imagine how small kumikki's face would be! she's sooooo pretty even without make-up! then she was called by her manager (?) and she went outside for a while. so trying to keep our excitement even though we are screaming inside, we wrote down our memories and experiences on a book *as requested by shishido-san* hahah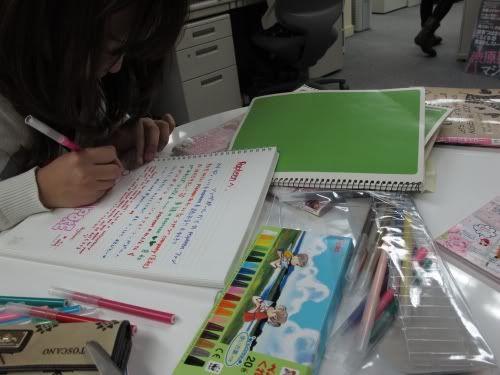 we also posted our puris (taken on that day by puri machines endorsed by POPTEEN models~)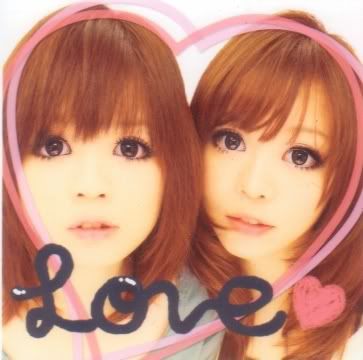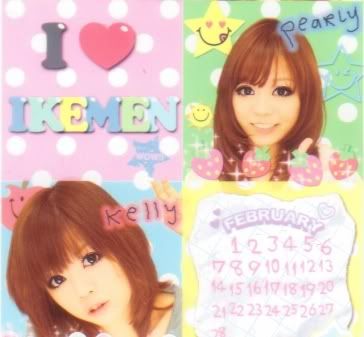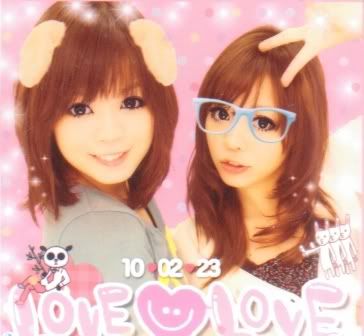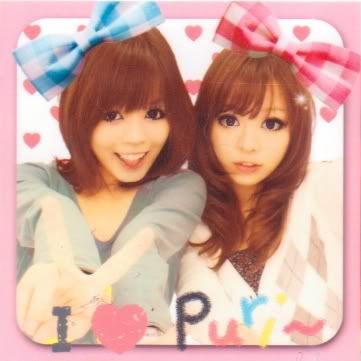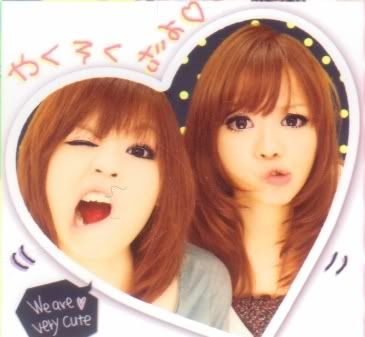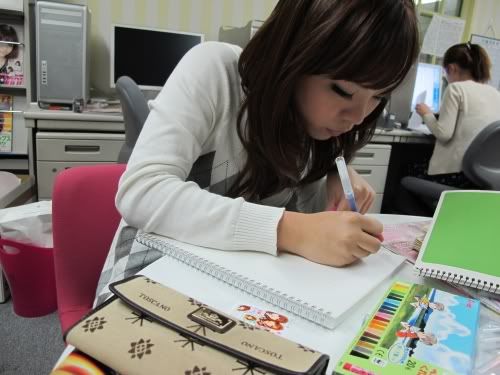 while my sister is writing on the book.. i went to explore the shelves and i found this!!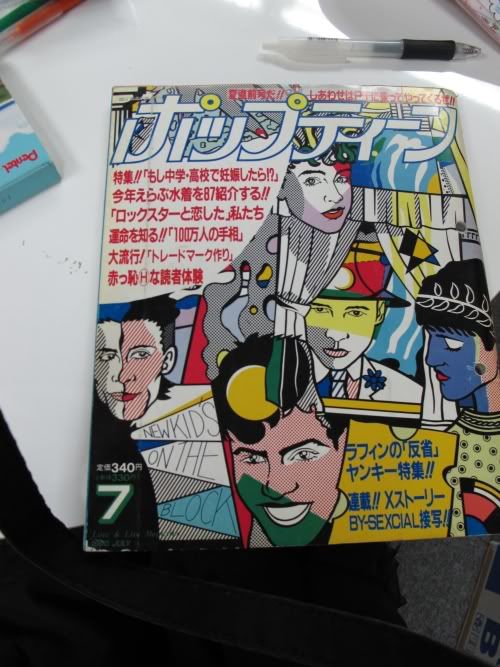 one of the first few issues of POPTEEN!! cool huh~! totally not gyaru~ hahah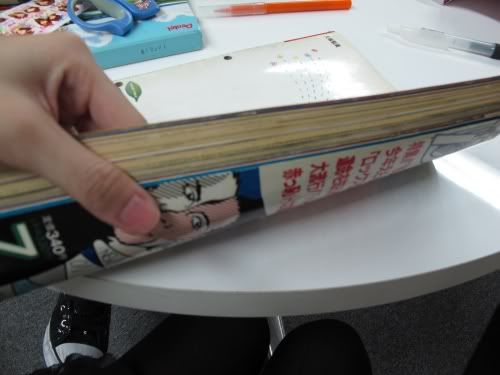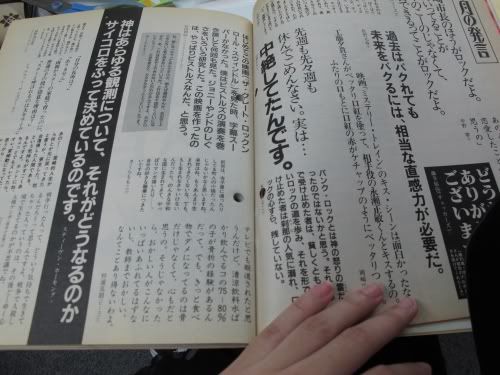 NO PICTURES!!
just words.
hahah. even shishido-san was shocked by my discovery and she was like, "
nani kore?
" - what's this?
hahaha so we chatted with shishido-san who is free at the moment for a while...
and when
YUI
returned, she gave us two popteen and offered to sign for us! she's so so nice!! *touched*
then yui still sat beside us and chatted with us for quite some while.
she is so sweet. she wanted to give us her new Melliesh product but her manager doesn't have it with her. ( _ _)
she said that she is really glad that we are here today as she hardly comes to the office.
wahahaha. please la~
WE ARE THE

LUCKY

ONES!!
and guys, she said that she is really interested in coming to Singapore! hahaha. she also showed us her schedules.
omg, packed packed packed. (= =) totally no time for singapore trip until next year ba.. hahahahahah
all of the time, she is without sunglasses so we can really see her long long long eyelashes! and really seeing her up CLOSE is an unbelievable experience for us!
omg omg. it's a fan girl dream come true~
i don't care if people is going to call me a
SHOW OFF
but....
i need to show this to someone!! hahahaha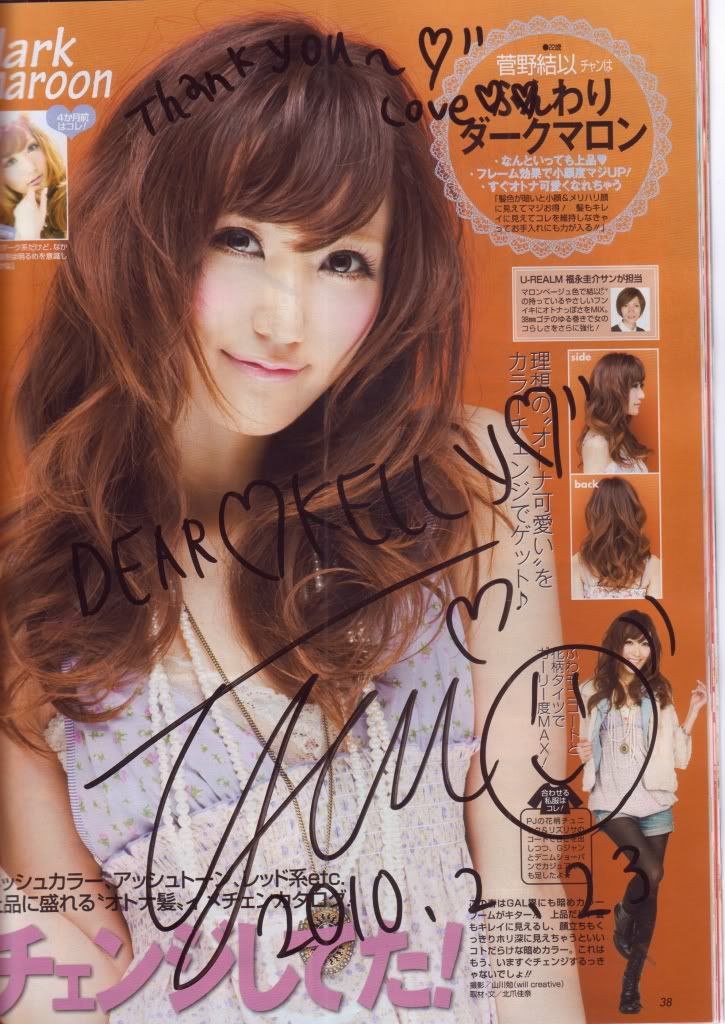 autographed page by YUI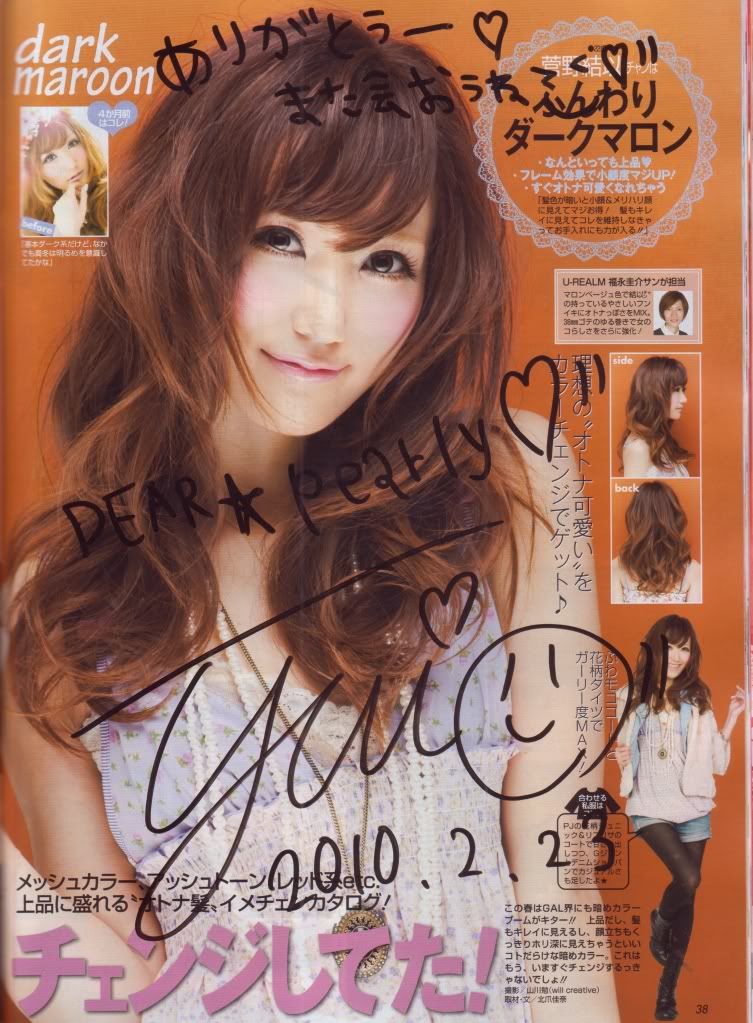 my sis's one. (.> <.) longer message..
then after that she went to discuss the shooting with the editor... so we continued to chat with shishido-san!
and she was like, "
ii yo ne.. yui-chan ni atta!
" -> how great.. to be able to see yui~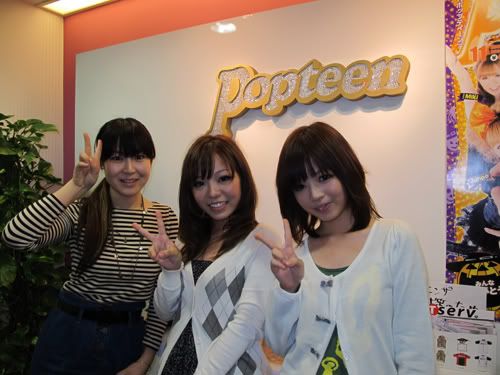 finally a photo with our shishido-san!
we stayed there for hours.. hahaha..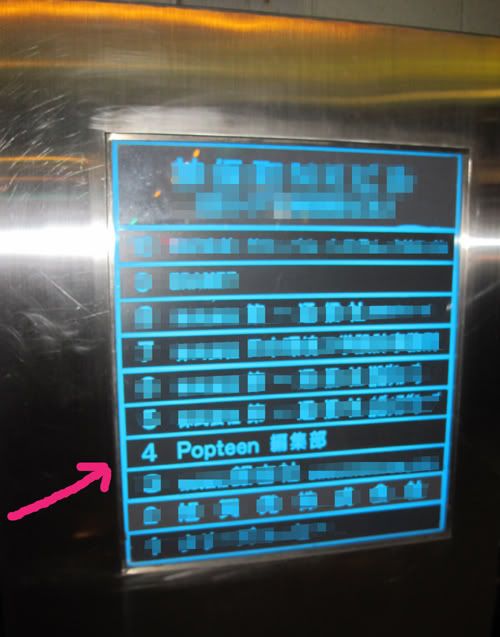 WE LOVE POPTEEN~!
hahahahaha
and a pleasant surprise from yui-chan when we checked our computer that night.
she uploaded our photos onto her official blog and also the one on galspop.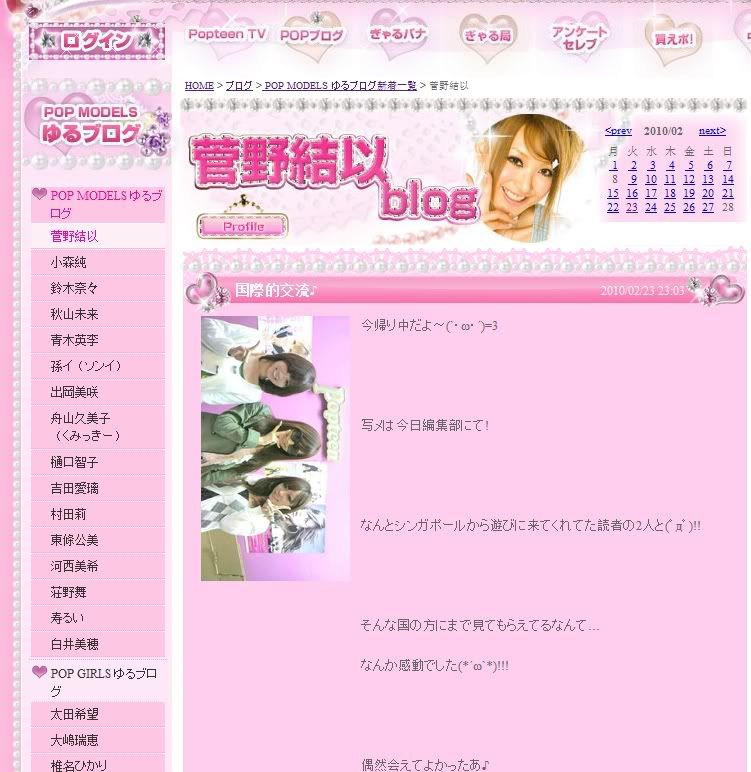 Her galspop blog :
LINK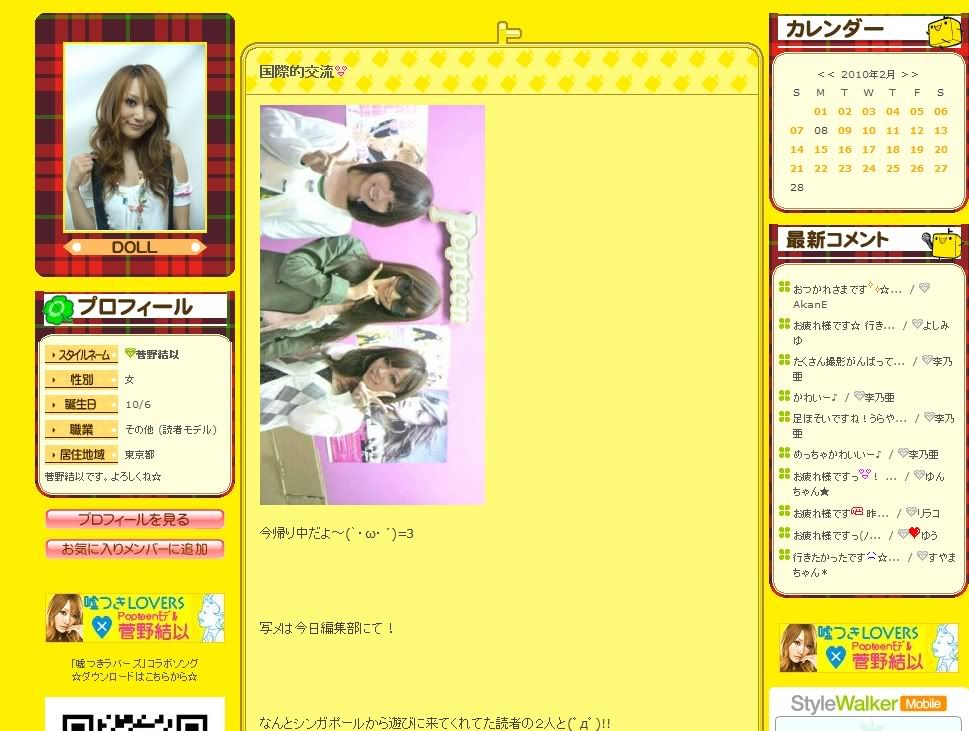 Her official blog :
LINK
her post:
今帰り中だよ~(`・ω・´)=3
i'm now on my way back~



写メは今日編集部にて!
this photo was taken in the editorial room!



なんとシンガポールから遊びに来てくれてた読者の2人と(゜д゜)!!
and it's two readers from Singapore who came down here to play!!



そんな国の方にまで見てもらえてるなんて…
To be seen by people from such countries...
なんか感動でした(*´ω`*)!!!
it's really touched!!



偶然会えてよかったあ♪
i'm glad that we met coincidentally


ケリーとパーリー、日本楽しんで行ってねー(´∀`)!♪
Kelly and Pearly, please enjoy your stay in japan~



それにしてもpopって、グローバルな雑誌なんだなあ…(゜ω゜)笑

and of this POP is , really a global magazine wa... *laugh*



さ、今日は帰ったら私服着まわしのコーデ考えなくちゃ!!
and, today after i reached home i would have to think of the coordinates of my clothes


今月の撮影は私服企画が盛りだくさんだよ~(`・ω・´)☆
this month shooting is full of personal clothes coordinations~
omg omg! O_O can you imagine that?
===========================
anyway, on our way back we were really thrilled!
the excitement just can't subside.
so much so that we forgot to go for dinner! wahaha.
and we bought back instant noodles, mister donut and mcdonalds.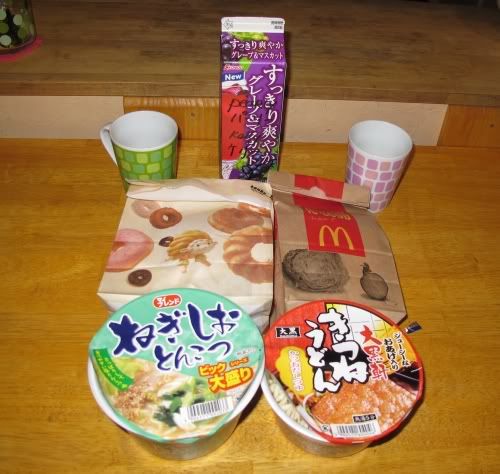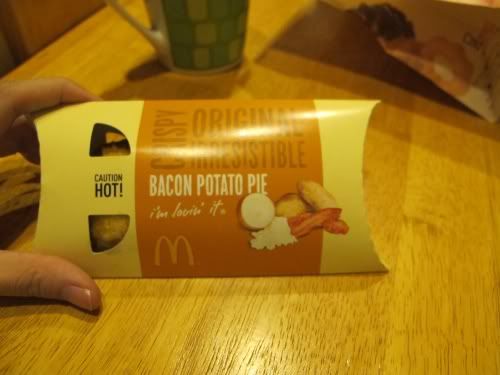 really oishii~ if you're in japan, please try this!
it's so nice that we go
CRAZY
about it..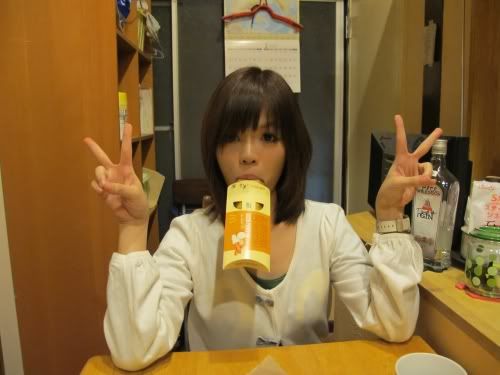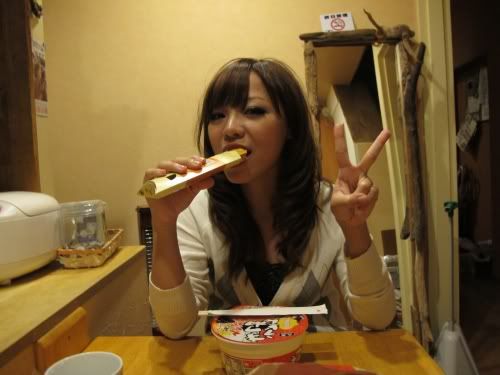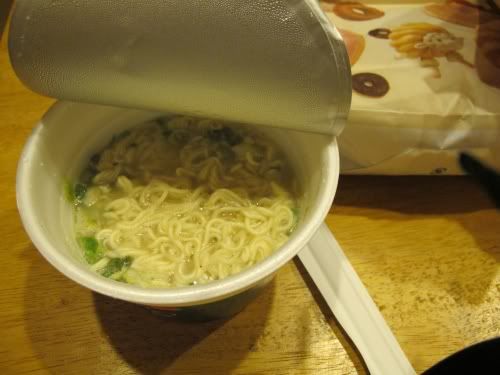 my not so nice shio ramen instant noodles.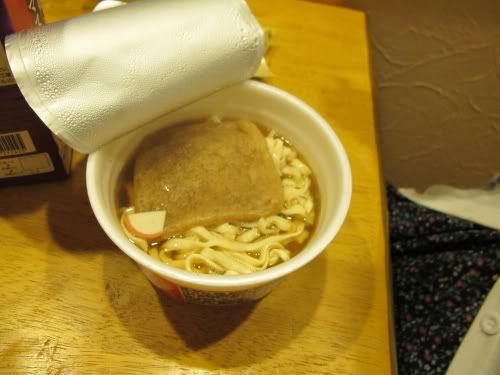 really nice instant udon noodles!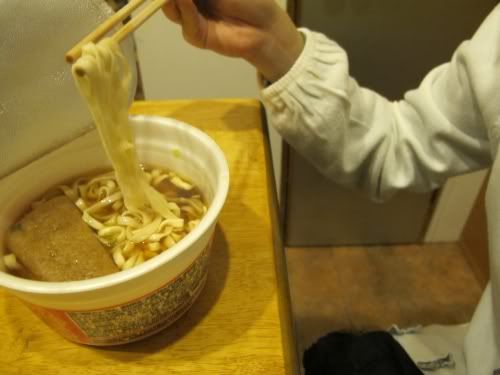 bouncy bouncy~
memorable day! thank you
POPTEEN~!