hey everyone! thanks for reading our blog even though we disappeared for sooo long!
love you all sooo much! <3333
and a big hello to all my new readers!! hehehehe

Last sunday, I went out to get a book from kinokuniya!
Super excited about getting the free book as it comes with a free gift tempted us sooo much! =DDD
soooo... i went out with my boyfriend to get the book.. (yes, i've got a boyfriend... finally.. hahaha)
and tadaaaaa!!!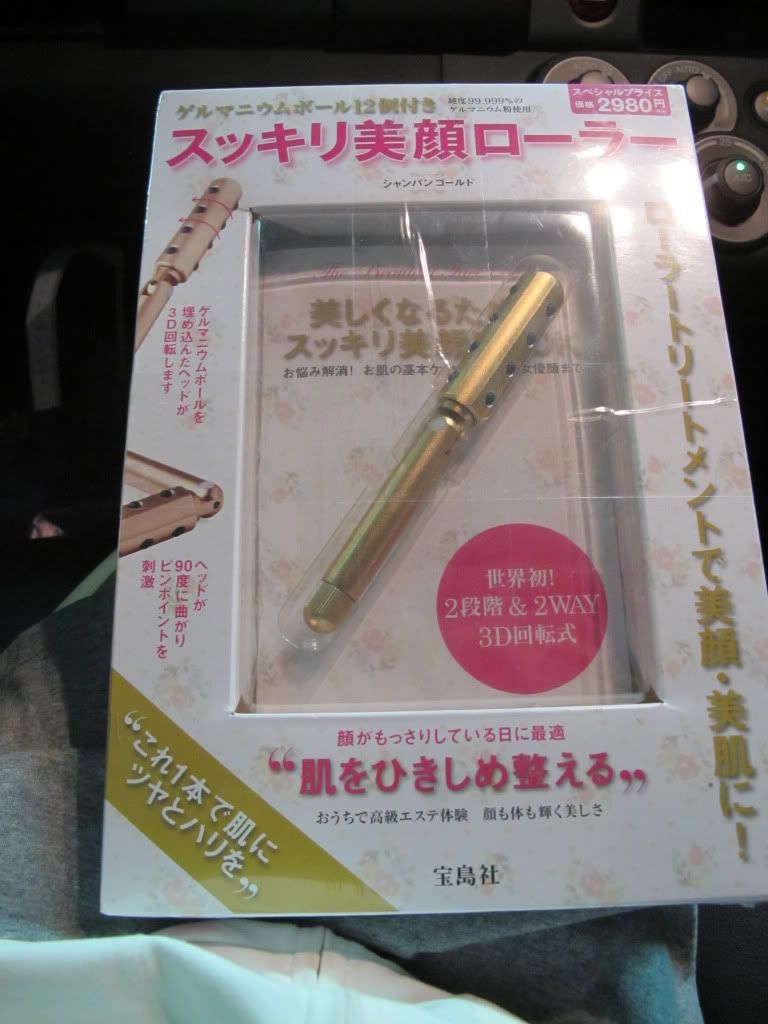 tada!! it comes with a face roller... that is SAID to be selling on ebay at about 200dollars... hmmmmm.... (=.=)
but frankly speaking, i was a little disappointed!
i was expecting the face roller to be electrical which will send vibration to your skin to radiate it..
but but.... it's not!!
it's just a roller with a few balls on it...
but it's said in the book that it makes your skin smoother, get rid of unwanted water retention and firm up your skin...
so i tried...
and tried...
spent the about 15 minutes (while my boyfriend is driving to the next destination)
and....
is there a difference on my right side? ( the left side of the photo)
sorry about the blurred photo.. cause i find that that's the photo that shows the "slimming" of my face better.. hahahahahaa....
and here's the clearer one
is it obvious? well, a LITTLE OBVIOUS? *blink*
well, i find that there's a little difference..
but i'm not too sure whether it's psychological or not.. (my mind is trying to console myself that the money i've spent on the book is worthwhile...)
hahaha...
i give it a 6/10
cause you really have to be diligent enough to do it regularly to see a difference..
well, that's the number one rule to become prettier ( as the chinese saying goes, " there's no ugly people, only lazy people" ) hehehehe
I'M NOT LAZY!!
( oh shit!! where's my roller?? ) hahahaha
and after that, we went to have dinner at vivocity~
had burgers from MOST.ORIGINAL.BURGER
super cute right?
and just to end off with...
my photo! hehehehe
By the way, the lashes i wore here is the same as the one we will be giving out for our giveaway which ends in 1st nov!
Please join if u haven't!
love love,
Kelly