Hello everyone!
Sorry i didn't blog yesterday.
because i had a bad bad cramps.. so after Jrunway's launch event i went home and .... curled into a ball and sleep.
usually the cramp will last for one whole day and i had to pop pain killers every 4 hours to stop the excruciating pain. i'm those that will roll into a ball and cry in pain... sometimes i will vomit etc...
and also, i had a near syncope once during my period... *sigh* probably due to my low pain tolerance or maybe due the hormones imbalance during menstrual period.
in short, menstrual pain is... literally a pain in my a**
anyway, this time round.. it's a little more painful than my usual (which is very bad already!!)
and it lasted for 2 days!! but today was a little better.
....
oh but the main thing about this post is... SOLUTIONS (other than pain medication) that will help to alleviate the pain.
[Disclaimer : yes, i've just googled about them a few hours ago.. should have did this research earlier!]
soo if you have nasty period like me, do try them out! (or bookmark them and try them when the pain starts!)
1. Acupuncture point
i know this sounds a little hard to believe...
but i've just tried it...
and it relieved the pain a little!!
it's 4 finger above your medial malleolus!
just press it for 30 seconds and also massage around your bone.
(i also googled a little bout the acupuncture point.. and wow.. it has many benefits for women! so just go ahead and press press press!! =D maybe i'll do the translation for that article one day.. but it's in Chinese so i will probably take a longer time to translate >.< )
2. Pelvic exercises
sitting on a chair, feel that your tailbone is resting on the chair.
then must left and right and front to back.
lying supine.
moving your pelvis left and right while saying MOZO MOZO (no idea why.. hahaha)
make sure that you don't arch your back.
PS : remember to relax while doing these exercises!
3. Stretching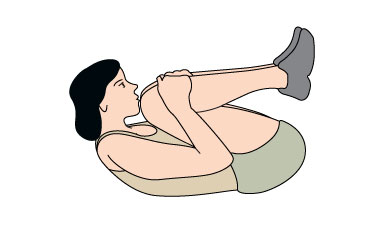 doing back stretching exercise can also reduce the pain!
4. Walking
i understand the reluctance to get up of bed due to the pain.
but it's actually recommended to walk around and so that your pelvic muscles wont stiffen up and cramp.
5. Food that can help to alleviate the pain
warm vegetables
soya bean milk
by the way, food that you should avoid are... coffee and chocolate!
(but i dunno why i crave for chocolate during my period! )
I'm going drink soya bean milk now...
relieve pain >.<
hopefully by following all these exercises, one day i might be able to dump my painkillers..
btw, what do you do when you have menstrual cramps?
i've got a friend who said she never had menstrual cramps before..
and she attributed that to her daily sit up exercises..
well... i suck at sit up.. so probably it's true =3=
anyway, i hope this article helps anyone who have menstrual cramps!
cheers,
kelly