Hello everyone!!
recently i've seen a lot of #whatpubertydidtome post.. so i'm inspired to do one for my blog too!
I realised i've got very little photos last time as compared to now..
Pearly (wearing the tie) and me!
when i'm 7 years old..
hahha
that time.. my sis was the head prefect, top student etc..
and i'm just a super super short girl... who carried such a big and heavy bag that is almost 1/2 of her size..
hahahaha
In secondary school...
i'm the one in white...
i think this is the period of time when i've got the high self esteem... (even though i've got splitting fringe and messy hair..)
hahahha..
My sis (green) and me~
we are JANIOTA..
which means johnnys' otaku..
we love those idols sooo much that we pretty much put in our attention and money into them and their concerts! wahaha
that explains the lack of motivation to dress up etc! wahahaha
In junior college (17 years old)
With my secondary school to Junior college besties...
hahaha still besties now!!
well.. i think i'm like 10kg heavier than i am right now..
hahaha
i still remember we used to meet early in the morning to have very heavy breakfast!
like roti prata x2 and noodles for breakfast...
hahahaha
and a few hours later, school lunch break again...
and after school, we will go KFC...
and after that i'll go home and have dinner..
wahahaha.. that explains why i was sooo heavy that time.. hahahaha
I think what changed me...
is the second trip to japan..
when we got to go to popteen office..
and when we met yui kanno...
hahahaha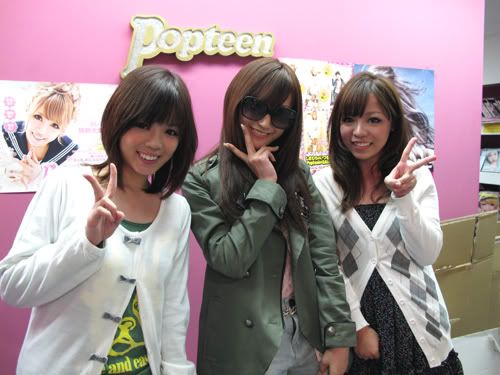 after that , we are more into makeup..
and just want to look as gorgeous as them!
purikura during that trip
and... i'm hooked to being gyaru!
and the rest of it...
is like playing with different makeup styles..
into super big eyed period...
many layers of eyelashes! hahah
into natural makeup
and another transformation is...
being friends with the harajuku models...
they taught and inspired us to be more harajuku!!
and our love towards harajuku fashion .... increase soooo much!!
and now...
i'm working hard to be more harajuku!!
to develop my own style! hehehe
and to be a full fledged harajuku girl!!