I was browsing through popteen the other day (it had been a long time since i've last seen a gyaru magazine) and i realised that natural girl makeup is the new popteen gyaru trend!!
No bright and super pigmented colours...
Almost of the items used were BROWN! brown eyeshadow, brown eyeliner, brown fake eyelashes!
Other than brown fake eyelashes, I've got quite a number of brown eyeliners too!
I always collect brown eyeliners because even though they are all "brown" eyeliners..
they are sooo different from each other..
some are lighter, some are closer to black, some are more yellowish/reddish!
sometimes it's really hard to find the BROWN you need especially when there's no testers!
so here's some drugstore brown eyeliner you can buy from Singapore!
First, let's see the colours!
*the long vertical line is BLACK for comparison*
Which one do you like it best?
Personally, I love no.4 as it is the lightest and it has got SHIMMERS!
it would suit the natural look yet making your eyes shine with the shimmers!
More suitable for super dreamy super light eye makeup!
But i would USE no.1, no. 3.no. 5.no. 6.no.8!!
Because they are dark (good for defining the eyes) but not too black!
You want your eyes to look dreamy but not BLANK.
Have you chosen which one is your favourite colour?
1. Avance Brown Eyeliner
2. Canmake Brown Eyeliner
3. Clio Kill Black - Brown
4. Clio Gelepresso - brown
5. Dollywink liquid eyeliner - brown
6. Dollywink Pencil eyeliner - brown
7. Etude house Versailles Princess - Brown
8. Heroine Make Gel liner - Brown
THE RUBBING TEST!
*carried out after waiting for 30 seconds!*

After I tried rubbing them off 5-6 times, no.4 CLIO GelEpresso smudged and no.8 Heroine Make Gel liner smudged a little as well!
The rest did well!! *applause*
THE WATER TEST
*I only rubbed on the middle and the rest were dried with tissue paper*
They all seems to be quite water proof!
No.6 Dollywink pencil liner scored the best as it stays on well even after rubbing while washing!
So... if it's going to rain, feel free to rub your eyes while you have dollywink pencil liner on. hahaha
NOTE:
No.2 Canmake brown eyeliner has got a thick liner so you won't be able to draw really thin lines with the tip.
Nevertheless, they look great for brown makeup and tight lining!
No.7 Etude house Versailles Brown eyeliner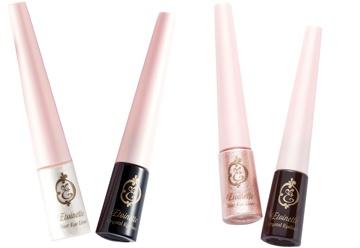 Bottled eyeliner, it might be hard to use if you're a beginner.
However, if you like thick and dark eyeliner, it can achieve it easily!
*it's the darkest among all brown eyeliner!*
Regardless which brown eyeliner you use, brown eyeliner will make your usual makeup look less harsh!
There's also another use for brown eyeliner...
it's one of my makeup tricks to create bigger looking eyes! hahaha
Going to use more brown for spring as its season eyeshadow colour will be pink!
and

pink

X

brown

is super cute!
Do you have a
brown
eyeliner to recommend?
xoxo,
Kelly