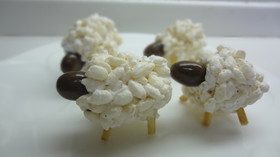 Puffed Rice ポップライス(にんじん)
13g(小一袋)
Marshmallow マシュマロ
2 1/2
Almond chocolateアーモンドチョコ
4個
Pocky プリッツ
2本

1. Mircowave 2 marshmallows for 20 seconds, mix them together with the puffed rice.

2. When it's not that hot anymore,spread a little bit of salad oil on your hands and shape them into cylindical shape. Place them on baking sheet or tray coated with thin layer of salad oil.
3. Heat half a marshmallow in the microwave for 10 seconds. Stick an almond chocolate on it and paste them into the rice ball.

4. It will look something like that.

5. Stick pocky sticks with small heated marshmallows and stick them on the bottom.

6. After it's cooled, it will be done!

7. You can put a stick into the rice ball.

Wrap them up and give them to your friends~!
# Don't use too much salad oil.
# It will only stick when the marshmallow is hot, if it cooled down before you can shape them, reheat them in the microwave again for 10 seconds~ =D
This treat is super cute!
Especially to those crazy alpaca fans ~ hahaha
Not to mention, it's super easy to make too!
But i think it would be super super sweet! O.O
cheers,
kelly