Valentines Day is coming!
I'll be translating a few recipes that I like from www.cookpad.com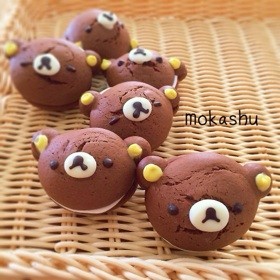 This is super super cute!!
I'm sure both your boyfriend and friends will find it cute too!!
hehe
1. Put butter, egg and milk to room temperature.
Heat the oven to 180 degrees Celsius.



2. Mix flour, cocoa powder and baking powder together.

3. Mix Butter and Sugar well until they become whiter.

4. Add in the egg little by little while mixing them.
Then add in the flour, cocoa powder and baking powder mixture slowly.

5. Add in the milk and mix them well.
Then put the dough into a Pastry bag,

6. Squeeze out a oval shape for the face on the baking sheet.

7. Then add the ears~! hehe
8. Bake them for around 12 minutes!
*hehe so cute*

9. After it's cool, put a marshmallow on the underside of the bear pie.
Warm them up for 10-15 seconds in the microwave then put another bear pie on top of it.

10. If the marshmallow is overheated, they will leak too much to the sides.
Please adjust accordingly!

11. Create the nose using chocolate pen (or melted chocolate in a pastry bag) and place them in the freezer.

12. After it's cooled, add the nose on top!
Draw ears and ear using chocolate too!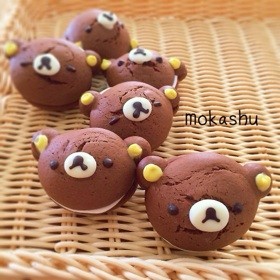 Super kawaii bear pie~
Credits :
http://cookpad.com/recipe/2497498
Translated by Kellykonomi
xoxo,
kelly