I hurried to translate and post this up as it's quite similiar to the bear pie!
So if you're planning to do the bear pie, you can make this as well!
http://img.cpcdn.com/steps/13068131/136/8cd9c8236d18ada86820a76fc20a8cf0.jpg?u=8658538&p=1391094065"/>
1. Melt the butter and chocolate in a double boiler.

2. Heat up the soy bean milk in the double boiler too!

3. Mix the flour, corn starch, cocoa powder and baking powder.
Preheat the oven to 180degrees celsius.

4. Mix the melted chocolate + butter and milk together with the flour etc mixture using a rubber spatula.

5. Make sure it's not powdery

6. Put them into a pastry bag.

7. Make several heart shapes and put them in the lowest rack in the oven.
Bake for 7-8 minutes

8, Done done~

9. Wrap them up with kitchen wrap and let them cool down.

9. Cut marshmallow into 4 and place them as shown in the photo.
Add a little water on the surface of the marshmallow and heat them up.
900W microwave for17seconds.
http://img.cpcdn.com/steps/13068243/136/79296c9dc5cc38575fb43e44de04a11a.jpg?u=8658538&p=1391094739"/>

11. Melt strawberry chocolate in a double boiler (50-60 degrees celsius) and stir them slowly.

12. Dip one side of the love whoopie pie into the melted strawberry chocolate.
Let them chill in the fridge.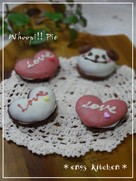 13. Decorate them with words written by chocolate~
Translated by : KellyKonomi

She also wrote the recipe for the white bear : http://cookpad.com/recipe/2482831
Basically it's about the same




the ear are made of cereals:
Hope you had a fun time making these!
Cheers,
Kelly