4 years ago on 4th of april (my dad's birthday), i met the love of my life.
4th April 2010, I visited AKIBANANA for the first time.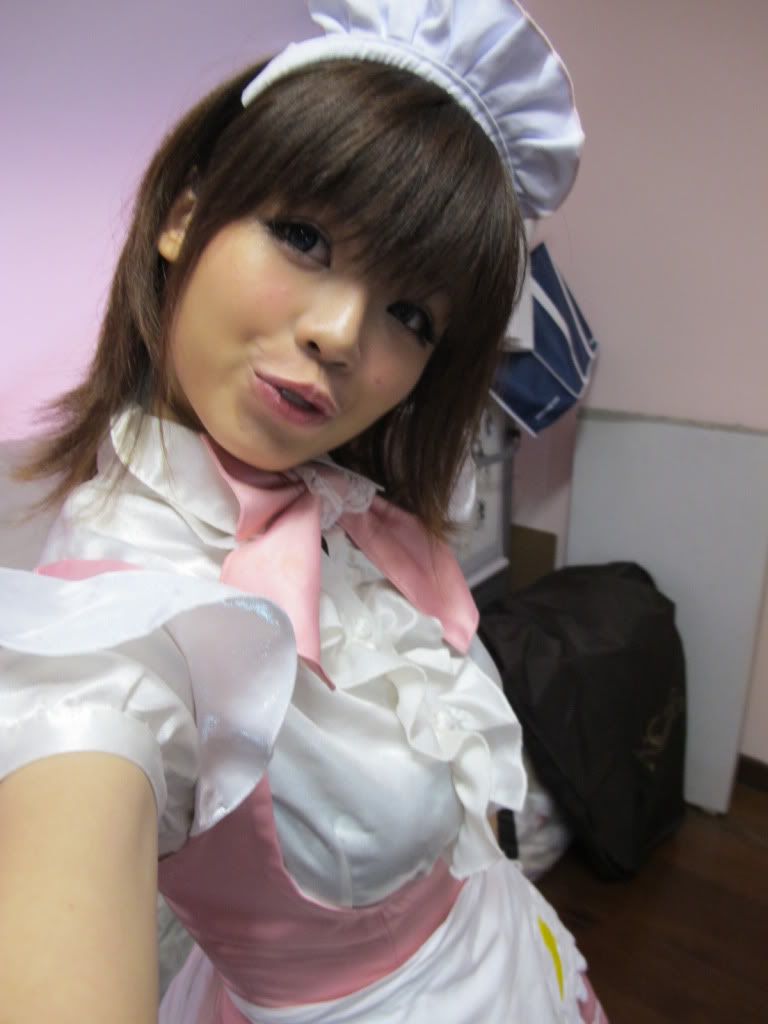 Went for an interview at the local maid cafe.
cause i love maid cafes
and i didn't get accepted into MMK that time
while still putting this kawaii maid costume on (self moe, how i wish i can wear maid costume daily), i went down to find a senior cause i finished changing and she need to take a photo of me in the maid costume.
That's when i first saw him.
He was peeking upwards near the staircase, looking for maids to serve him.
he ordered roti prata (yes, we served that in Akibanana haha) in his british accent.
I told him I haven't start working there yet so i don't know anything.
he wished me good luck.
shy, i ran upstairs.
to be honest, i was thinking in my mind...
it would be great if all the maid cafe customers act and look like him
hahaha
now.. i look back... he wasn't exactly very handsome when i first met him.
he looks like this...
skinny, naughty looking and has a diamond earring. =.=

thinking back, i'm pretty sure it must be love at first sight..
cause he looks totally different from my type of guys.
My type of guy ↓↓
cause i was a big fan of kare ha tomodachi that time...
and i want a gentle looking megane guy like KAREN
so, it must be love at first sight to find keith special.
So after that, life went on...
and on my second day of work at Akibanana, i saw him again!
(http://www.kellykonomi.com/2010/04/spongebobby-day-at-a87.html)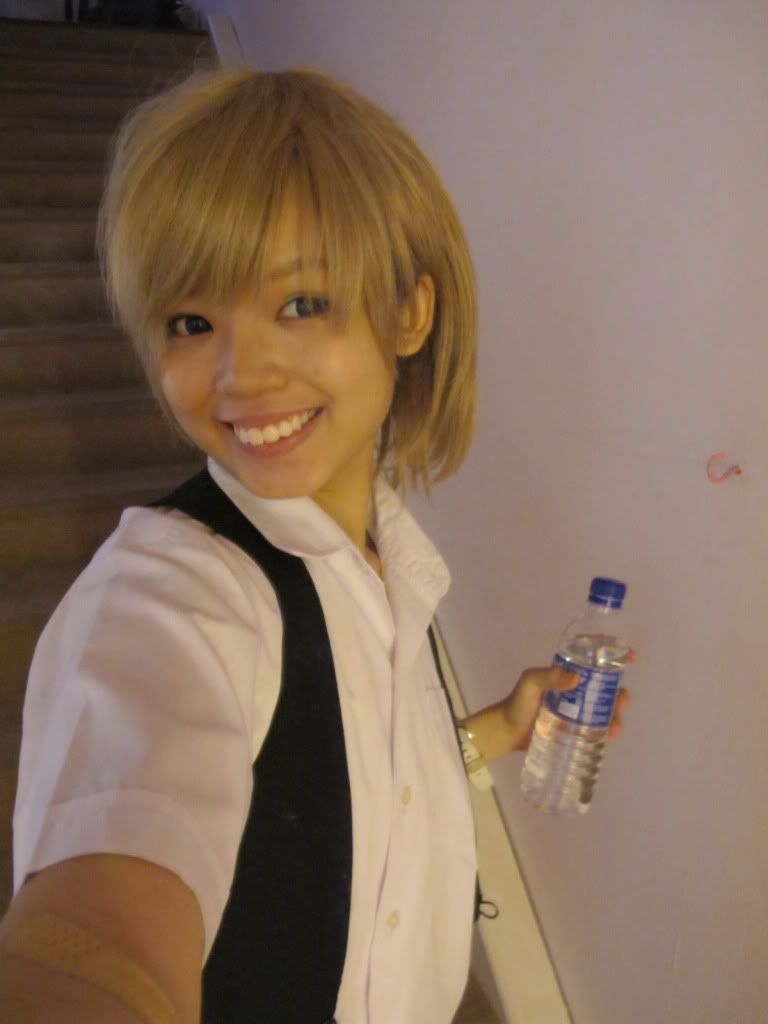 That day, i dressed up as a butler
I was super hyped to be a butler cause i aspired to be as cute as honey senpai. hahaha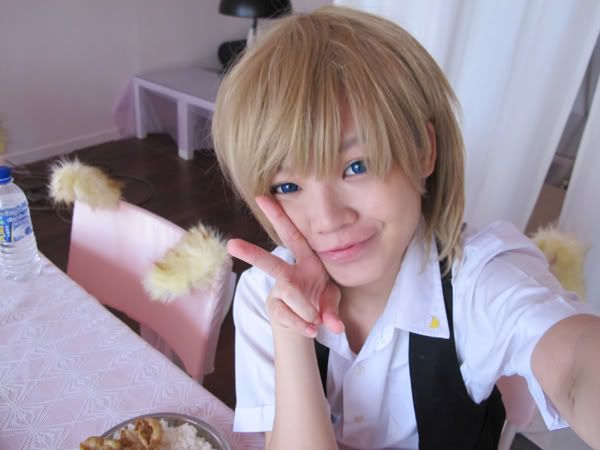 but......
the feelings totally changed when i saw him walk into the cafe..
I WAS like O.O WHYYYYYYYYYYY
I want to be a maid nowww
My work-maid who is so much cuter than me on that day...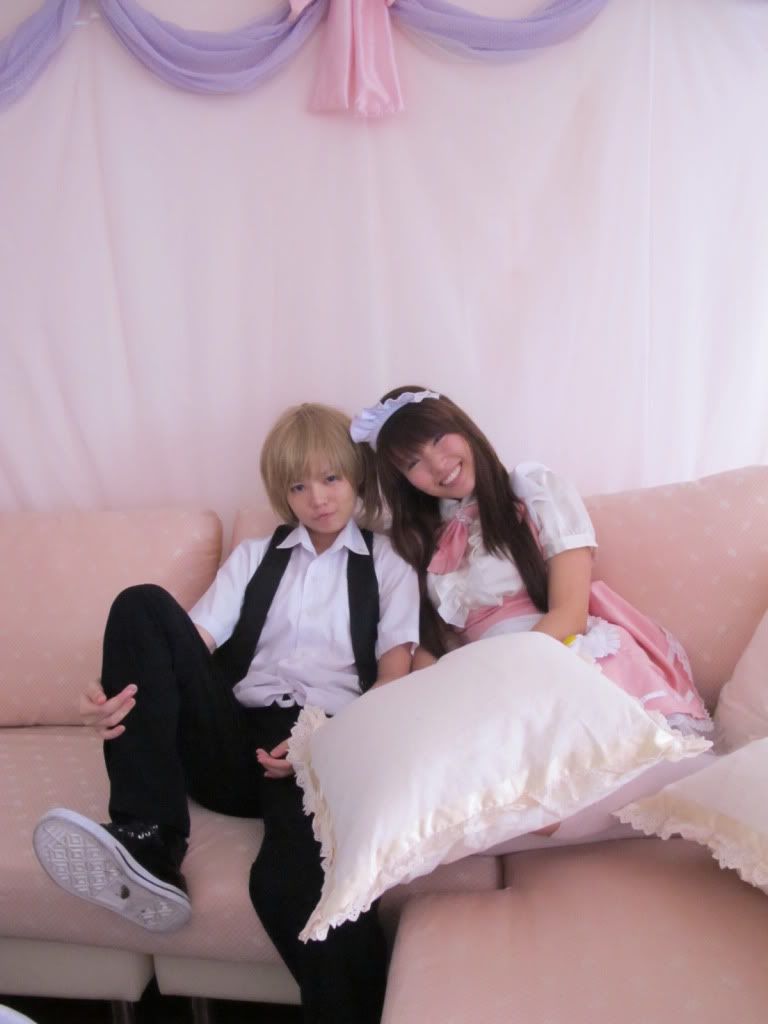 Self confidence
↓
↓
↓
but thankfully, keith and i managed to chat up a little hehe
he actually came down to the cafe before flying off to germany for a competition.
that time, i thought he was a jockey hahaha
so, a few days went by...
i went to school as per normal...
and one day, i got a facebook request from him!
so we began chatting...
he seemed to be a man with a lot of words..
(anyway, now that i know him better, his replies to others are really short. really short, like " K. ON. GAME? BRO? kinda short)
actually we chat a lot, once everyday..
cause i didn't have 3G that time (OMG, sounds really old haha)
He got stranded in Germany for more than 10 days due to the volcano so we chatted on facebook regularly. everyday after school, i will rush home hoping to see his reply hehe
We went for our first date at sushi tei after he came back from germany.
second date at thaiexpress
he had a car accident before he came to pick me up but we still went for the dinner anyway.
after that he had high fever for days....
and then with a few more dinner and movies dates...
toy story, karate kids, garfield etc
went to USS together even though he's scared of heights and rides
and beetles..
hahaha
going out with him seem to be a routine
checking my phone for his sms became an addictive habit.
i seriously thought he's going to confess during this USS trip lo!!
but nope.. ( =3=) still got to wait a few more weeks
hahaha
yeah~! LIKE FINALLY
so on 26th Jun 2010, he invited me to dinner at JEWEL BOX.
i still remembered we had super expensive mee goreng, like $24 a plate O.O
then after dinner, we went for a stroll.
he brought me to this super eerie looking pathway (kinda expecting ghost or robbers to threaten our lives)...
but the pathway was really too scary for the both of us..
so we went back and sat down on one of the benches.
feeding mosquitoes
then he pulled out a ring.
(in my heart i was like PROPOSAL?? ISN'T IT A LITTLE TOO FAST??)
then he began uttering nonstop.
he was just REPEATING and REPEATING that he likes me etc.. *SHY*
but never stop and ask if i wanna be his gf or what..
hahaha.
I WAS WAITING FOR HIM TO STOP TALKING AND FOR ME TO SAY YES
hahaha
so.... after a good 10 minutes of hearing repeated phrases, i interrupted and asked if i can wear the ring now
hahaha
we both agreed that the confession was too funny.
so we went over to sentosa and he confessed again
hehehe
this time round, he did a great job hehehehe
so, on 26th jun 2010, we became a couple.
he's my first bf and i'm his first gf
hehehe
following that is many many months of happy moments...
Many happy and precious moments with him
you make me so happy everyday
we do quarrel but hardly..
i can only recall 3 big arguments we had
and every time, he will give in to me because he hates to see me cry
keith made an effort to plan an overseas trip every year so create more memories for us.
thanks to that, we went to many countries
a few times to hk
a few times to japan
our apartment in tokyo
breakfast i made in the morning~
really enjoyed cooking for us hehee
a few times to thailand
on the last two days of my bkk trip, i've got food poisoning.
stuck in the hotel the whole day vomitting and rushing to the toilet
poor keith couldn't go for massage as he had to accompany me in the hotel.
attending to my needs.
when i'm shivering, he will take the blanket from my parent's hotel room and layered it our bed.
checking my temperature.
buying food that's easy for me to digest.
bringing me my vomit plastic bag.
feeding me with lemonade.
hehehe it's good to be sick sometimes hehehe
and recently to korea,
and we will be going back to korea this year again~!
hehehe
together with my parents!
keith used to love creating super memorable and dangerous birthday celebration for me.
on my birthdays...
i've been on a cruise
watched fireworks from the cruise
did megazip in sentosa
been to IFLY and he complained that he couldn't breathe inside the chamber haha
fortunately, recently we both agreed that we prefer not to do all these wild and adventurous activities..
a quiet and simple birthday celebration will do
haha
even so, life is never dull with him..
swimming with the dolphins
underwater world
adventure cove
riding horses
experiencing earthquake
meeting him 4 years ago changed my life.
thanks to keith, these 4 years have been the happiest period of my life so far.
everyday is filled with laughters and smiles!
just being around him makes me feel so happy.
because of him, i want to be a nicer girlfriend, better cook, prettier girlfriend and someone who will make him happy everyday.
we are not perfect but i believe we are perfect for each other.
we may be too old and busy to keep creating surprises for each others, but we will always do our best to make each other happy.
we may not be sms-ing each other as frequently as before..
but that's because we acquired the ability to finish each other's sentences, read each other's facial expression and thoughts effortlessly.
the initial butterflies and doki doki-ness have been replaced by a comforting relax warmly feeling
i'm not sure what i want to accomplish in life, but i'm pretty sure i want him to be part of my future
i love you darling
thank you for all the wonderful moments these 4 years
thank you for making laughter part of my daily life.
on 1st of april, he proposed.
before meeting him, i've never expect my first bf to be my last.
but i'm glad it's him.
xoxo,
kelly